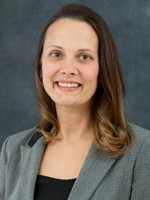 Head Coach
Rebecca Tillett
Coach Rebecca Tillett finished her first season as the head women's basketball coach at Longwood University. Her first year laid the foundation for the future. Dayna Rouse was the first Longwood Women's basketball player to be named to the Big-South 1st or 2nd team. The Lancers also posted the highest semester GPA in over a decade with a 3.26 this fall.
She joined the Lancer community after a decorated career at Navy, where she served as the associate head coach and the recruiting coordinator.
During her four years in Annapolis, Tillett helped the Midshipmen to an 81-47 record, including a program record wins (25) in the 2017-2018 season. Navy reached the Patriot League Championship game and earned a bid to Women's National Invitational Tournament (WNIT) two consecutive years. Navy went 46-26 in league play and back-to-back top-three finishes during her four-year stint, winning at least 10 league games in three of those years.
A three-year letter-winner, senior captain and 1999 graduate of William & Mary, Tillett was involved with all aspects of the program at Navy and specialized as the team's defensive coordinator.
Growing up in a family of coaches, Tillett knew early on this was not only a goal but a dream. She returned to her home state of Virginia with a varied background of success, including a championship decorated tenure at Forest Park, and 19 years of directing respected basketball camps in multiple states. Coach Tillett is eager for YOU to join the Lancer family!