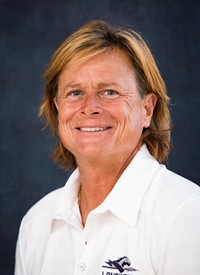 Longwood softball head coach Kathy Riley is set for her 21st season at the helm of the Lancer softball program in the 2015-16 season, as well as her 23rd overall. Throughout her storied career, Riley has posted an overall record of 657-385-1 while notching a 578-318-1 since taking over the Lancer softball program prior to the 1998 season, including a winning record in 17 of her 18 seasons.
Throughout her tenure at Longwood, Riley has never posted a record below the .500 mark and has coached 18 20-win teams, 11 30-win teams and two squads that amassed 40+ wins. She has guided the Lancers to three Big South Championships in the four seasons Longwood has been a member of the league, including the 2013 Big South Championship and 2015 and 2016 regular season and tournament titles.
Since Longwood has joined the Big South in 2012-13, Riley has coached two NFCA All-Americans, Megan Baltzell and Brooke Short, and has seen four players named to the NFCA All-Southeast Region team. In addition, Short (2013) and Baltzell (2015) have each been named Big South Female Athlete of the Year during Riley's tenure.
A native of Dayton, Ohio, Riley earned her Bachelor of Science degree in physical education from East Carolina in 1981 after a transfer from Middle Tennessee State in 1979. She earned her Master of Education degree in physical education: psychology/sociology from North Texas State University in 1982.