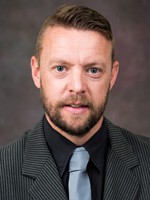 Jon Atkinson is in his 12th year at Longwood University during 2014-15, and in his 10th year as head coach following his appointment in February 2005 with a nine-year overall record of 58-86-29, including 40-27-15 at home. He previously served as an assistant coach since 2003 after spending time in the professional ranks playing with premiership outfit Sunderland and Darlington FC, managing 18 appearances for the Quakers before coming to the United States. Due to a career-ending injury, Atkinson turned his hand to coaching while gaining his FA Badge during his time with the Black Cats. He currently holds US Soccer Coaching A License, and serves on the Board of Directors for the local Thunder FC club soccer program.
Longwood finished 7-9-4 overall in 2013, including an impressive 6-3-1 record in the Big South Conference, while advancing to the league tournament semifinals. In their first year as part of the Big South in 2012, Atkinson's Lancers compiled a 3-12-3 overall mark, including a 2-7-1 record in league play. The squad's first-ever Big South victory was a 1-0 decision at UNC Asheville on September 9.
Atkinson led Longwood to an overall record of 11-6-3 during 2011, including 6-2-1 at home and 2-2 in the Atlantic Soccer Conference (ASC) while winning the ASC Tournament Championship for the second time in four years. It was the most wins for the program since 2002. He led the Lancers to a record of 2-13-4 during 2010, including 0-3-1 in the ASC, following a record of 6-12-2 during 2009, including 2-2 in the ASC while finishing as ASC Tournament runners-up. Atkinson led Longwood to its first ASC Tournament Championship in 2008, finishing 8-8-4 overall, 2-2 in the ASC while going 4-2-2 at the Athletics Complex where the program is 26-14-5 since 2006 when competition first began at the facility.
Atkinson and the Lancers have averaged over six wins per season in arguably the toughest region in the nation over the past eight years. He led the program to an overall record of 7-10-2 during his first season in 2005, including 3-2-1 in the ASC while playing a schedule that included five Atlantic Coast Conference (ACC) members. It was a dramatic turnaround from the year before when the squad finished 1-16 (2004), and even more impressive was Longwood finishing second during its first year competing in the ASC, though unable to participate in the ASC Tournament due to the Division I Reclassification.
Longwood was 7-8-2 overall in 2007, including 3-2 in the ASC while advancing to the ASC Tournament Championship match for the first time before falling on penalty kicks to finish as runners-up for the first time. The Lancers were 6-8-4 overall in 2006, 2-2-2 in the ASC.
Prior to Longwood, Atkinson was an assistant coach at West Virginia Wesleyan College from 1999-2002; helping guide WVWC to a pair of West Virginia Intercollegiate Athletic Conference (WVIAC) titles and a runners-up finish in three years. He was also the WVIAC Scholar-Athlete of the Year as a senior student-athlete with the Bobcats, scoring a school-record 29 goals during 2001. Atkinson was the head coach of both the boys and girls soccer programs at Lewis County (W.Va.) High School during 2001-02, leading the two teams to appearances in the state finals, for the first time in school history.
Atkinson is dedicated to soccer and spends much of his free time improving the college game while giving back to the local community with numerous off-season and summer camps and clinics. He has served as a National Soccer Coaches Association of America (NSCAA) regional ranking committee member, the ASC's Major League Soccer (MLS) Combine Selection representative, and an Olympic Development Program (ODP) Region I coach since 2008.
A native of Newcastle, England, Atkinson earned his Bachelor of Science degree in sports management from Wearside College in Sunderland England, his Bachelor of Arts degree in business administration from Sunderland University, and his Master of Business Administration degree from West Virginia Wesleyan. He is married to Nikki (Hall) Atkinson '98, a former Longwood women's basketball All-American and Academic All-American student-athlete. The couple has three sons, Jack (7), Charlie (5) and Max (3 months), and a daughter, Ella (2).