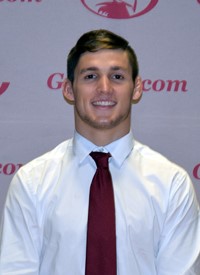 Head Women's Wrestling Coach (Assistant Men's Wrestling Coach)
On May 30, 2019, Ronnie Perry was named the head women's wrestling coach
Lock Haven University announces plans to add women's wrestling
MEET COACH PERRY:
Perry, a 2018 NCAA Division I national finalist, was named the LHU women's wrestling head coach on May 30, 2019. He spent the 2018-19 season a volunteer assistant coach with the Eastern Wrestling League (EWL) Champion men's team.
Part of Perry's (LHU, 2017) duties as head women's coach will be to still assist with the men's program.
As a volunteer assistant with the men's team during the 2018-19 season, Perry helped in all phases of running a top-20 Division I program. His experience and skill in the wrestling room proved invaluable and he also played an important role in fundraising efforts.
Perry carved his name deep in the LHU history books with a Cinderella-run to the 2018 NCAA Division I finals. Competing at 149 pounds, Perry capped his remarkable Lock Haven career by becoming the first No. 15 seed in NCAA tournament history to reach the finals.
Perry's run to the finals and All-American status helped the senior close a brilliant career on the mats and his chapter was an important one in the rise, and the Bald Eagles' return to national prominence. Perry's win in the 2018 EWL finals marked the 100th of his career as he became the 20th member of LHU's 100-win club. Perry closed his senior season in 2017-18 with a 32-4 record and he finished with a 104-32 career record.
Following the 2017-18 season, Perry was named both the Pennsylvania State Athletic Conference (PSAC) and EWL Wrestler of the Year.
In May 2017, Perry earned his a degree in business administration and he just recently finished (May 2019) his master's in sport science at LHU.
On May 22, Lock Haven officially announced its plans to add women's wrestling as a varsity sport. The addition of women's wrestling brings LHU's sport-sponsorship to 20 sports. Lock Haven currently sponsors 17 intercollegiate athletic programs including NCAA Division I field hockey and men's wrestling. All other sports compete at the NCAA DII level and within the PSAC. In August 2018, Lock Haven announced plans to add women's tennis and women's golf. Women's tennis will begin competition next year (2019-20) and women's golf will begin competition in 2020-21.