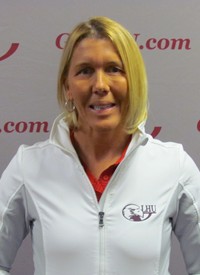 Kathy Brown made an immediate impact upon her arrival in 2016 leading LHU to its best season in years, improving the team academic profile to a 3.4 GPA, collecting two All –Region Honors and being awarded the Team Ethics Award.
She has over 20 years of collegiate coaching experience and Brown has won a National Championship as both a coach and a player.
Prior to LHU, she has toed the sidelines at Young Harris College, as the head coach , after starting the program there. Highlighting her tenure at YHC was a 2006 National Championship and an election into the Mountain Lions Hall of fame in 2006. Seven times she was named the Region Coach of the year. The NSCAA tabbed her as the NJCAA DI National Coach of the year in 2006. At YHC, she advanced to six national tournaments, won eight regional championships and claimed six district Championship[s. She led 11 players to All-American honors. She has coached players from the Trinidad and Tobago National Team and the Brazilian National Team.
Prior to YHC, Brown spent two seasons as an assistant coach at NCAA Division I Jacksonville State