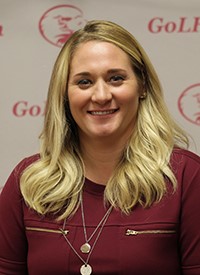 Head Coach
Jennifer Smith
Jennifer Smith enters season No. 11 (2017-18) as the head women's basketball coach at LHU and has the second most wins in the program's 72 year span.
Smith was hired in July 2007 and faced a daunting task of rebuilding the program.
She was more than up to the task and has led the Bald Eagles to new heights, reaching the Pennsylvania State Athletic Conference (PSAC) playoffs in the 2014-15 and 2015-16 seasons. This was the first time back to back playoff seasons had been accomplished since the 1990-91 seasons.
Smith led LHU on a sensational run during the 2014-15 season. Lock Haven made its first PSAC playoff appearance in 24 years and finished the season with an overall record of 11-16 (10-12 in conference play). The Bald Eagles downed Smith's alma mater - Millersville University - for the first time in ten years. The team also was clutch down the stretch as the Bald Eagles won four of their last five games to finish tied for fourth in the PSAC Eastern Division.
During Smith's tenure at LHU two players have reached the 1,000 career point milestone. Only 13 players overall have hit that mark in the program's history.
Off the court, the Bald Eagles have been very active in the Lock Haven community, helping with projects such as the YMCA Easter Egg Hunt, YMCA Healthy Kids Day 5K race, YMCA youth basketball clinic, YMCA after-school program, Liberty Baptist Church youth basketball league, Fraternal Order of Eagles blood drive, Salvation Army Kettle campaign and AAUW book sale.
The Bald Eagles have been successful in the classroom as well as on the court. Under Smith's tutelage, the program has had 31 student-athletes earn Pennsylvania State Athletic Conference (PSAC) scholar-athlete honors for their extraordinary academic efforts. In order to achieve PSAC Scholar-Athlete status, a student-athlete must maintain a 3.25 cumulative grade point average while competing in an intercollegiate varsity sport.
Prior to LHU, Smith spent two years as head coach at NCAA Division II, Goldey-Beacom College, located in Wilmington, Delaware. In just two seasons with GBC she was able to turn the program around leading the Lightning to their most wins in school history in 2006-07.
The team went 18-11 overall and 14-8 in Central Atlantic Collegiate Conference play. The 18 wins set a school record for overall wins in a single season and the 14 conference wins also marked a single-season high. During the 2005-06 and 2006-07 seasons, she guided the Goldey-Beacom Lightning to the third most improved overall record in all of Division II women's basketball. While at Goldey-Beacom, Smith also served as the school's sports information director.
Coach Smith served as an assistant coach at Millersville University from 2002-2004. Her duties included guard development, recruiting, scouting, camps and extensive help with offensive schemes.
Before stepping into coaching, Smith played for the Lady Marauders from 1998-2002 and was a four-year varsity letterwinner. At Millersville, she broke school records for most games played in a career and most three-pointers made in a game. Smith earned the 2002 Elwood J. Finley award as top senior female student-athlete. She served as team captain in 2002, while earning team MVP and offensive player MVP awards. During Smith's playing career, her team advanced to three NCAA Division II National Tournament appearances and earned PSAC East titles in 2000 and 2002. In 2009 she was named to the Millersville All-75th team that commemorated the greatest players in school history.
Of note, Smith was also a NCAA D-II track and field All-American in the javelin in 2000.
Smith graduated from Millersville in 2002 with a Bachelor of Science degree in speech communication and an athletic coaching minor. She earned a master's of education in sports management and administration in 2004.
Smith is an active member of the Women's Basketball Coaches Association and participated in the 2009 NCAA Leadership Academy, the 2009 NCAA Women's Coaching Academy and the 2015 Center for Coaching Excellence. She has also served on the Division II Regional Advisory Committee and the WBCA Coach of the Year Committee.
Smith is married, has two children and resides in Bellefonte, Pa.