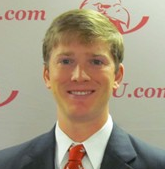 On January, 29, 2016, Patrick Long, a 2008 Lock Haven University graduate and former standout men's soccer player at The Haven, has been named the Bald Eagles new head coach. Long recently completed his fourth season at the helm as the team finished the season 10-8-0 (the most wins since 2011). The 2018 team won the ECAC Championship and finished the year with 8-7-3 record; the first winning season since 2011.
Long returns to LHU after spending the last six seasons as an assistant coach at Division I Bucknell University.
At Bucknell, Long guided the Bison to a pair of Patriot League titles and to two NCAA Tournament appearances.
During his tenure at Bucknell, Long assisted the program in all aspects, including day-to-day operations, training sessions, recruiting, scheduling, fundraising and alumni relations.
Under Long's leadership, Bucknell won Patriot League titles in 2010 and 2014, advancing to the NCAA Division I Tournament each of those seasons. The Bison advanced to the Patriot League semifinals in 2012 and 2013, and he helped guide one player to All-American status.
Prior to his time at Bucknell, Long spent two years at Pennsylvania State Athletic Conference (PSAC) rival East Stroudsburg University (2008-09 and 2009-10), as the graduate assistant and assistant coach.
Following his Bald Eagle playing days, the former LHU team captain served as Lock Haven's student-assistant coach during the 2007 season after exhausting his playing eligibility, and while working toward his undergraduate degree.
During his playing days at LHU, Long was two-time All-PSAC First Team selection (2005 & 2006) and a 2006 Third Team Academic All-American. Her served as team captain during his junior and senior seasons, and was a three-time All-PSAC Scholar-Athlete.
Long also played one season with the LHU men's basketball team.
He graduated from LHU in 2008 with a Bachelor of Science in Secondary Education/Social Studies. Long earned his Master of Science in Sports Management from ESU in 2009.
Long is a member of the National Soccer Coaches Association of American (NSCAA).
Patrick and his wife Carol (LHU, '06) are the proud parents of a daughter, Hanna and a son, Rory.
Patrick is also a legacy of sorts as he follows in the footsteps of his father Lenny Long, who coached the LHU men's soccer team from 1984-1996. Lenny was also an All-Conference player for "The Haven."