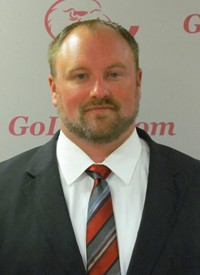 On April 12, 2015, Dave Taynor was named the new head football coach at Lock Haven University.
In doing so, he became the school's 24th head coach.
Taynor, a 1999 graduate of Urbana University, has spent the last seven seasons as head coach at his alma mater in Urbana, Ohio.
After taking over Urbana's program in April 2008, Taynor has led the Blue Knights to unprecedented success, both on the field and off. He was instrumental in leading Urbana from NAIA to NCAA Division II play during his tenure.
Under Taynor's guidance, Urbana enjoyed the five most successful seasons in school history from 2009 to 2013, and he's the winningest football coach the school has seen.
This past season, he guided a pair of Blue Knights to All-Regions honors and one player to All-American status. Under Taynor's leadership, D.J. Mendenhall was named the 2013 Mountain East Conference (MEC) player of the year and Mendenall was a regional finalist for the Harlon Hill Trophy, given annually to the best player in Division II football.
Taynor's 2013 Urbana squad finished 7-4 overall and second in the MEC. That year, the team led the league in total offense, passing offense and offensive touchdowns. In 2010 and 2011, Taynor led Urbana to back-to-back championships seasons, as the Blue Knights won the Great Lakes Football Conference (GLFC) in each of those seasons. From 2010-2014, Taynor guided 66 players to All-Conference honors.
A strong offensive mind, Taynor's teams broke over 50 team offensive records from 2008-14.
Prior to Urbana, Taynor served assistant coaching stints at Tiffin (2006-08, offensive coordinator/offensive line), Wisconsin-Stevens Point (2004-06, defensive coordinator/offensive line), Culver-Stockton (2001-04, offensive coordinator/offensive line/tight ends), Louisville (1991-2001, graduate assistant) and Urbana (1991, student-assistant, offensive line/head strength coach).
Taynor is also a certified Strength and Conditioning Coach by the National Strength and Conditioning Association. He earned a Bachelor of Science in Sports Science from Urbana in 1999 and went on earn a Master of Arts in Higher Education from the University of Louisville in 2000.