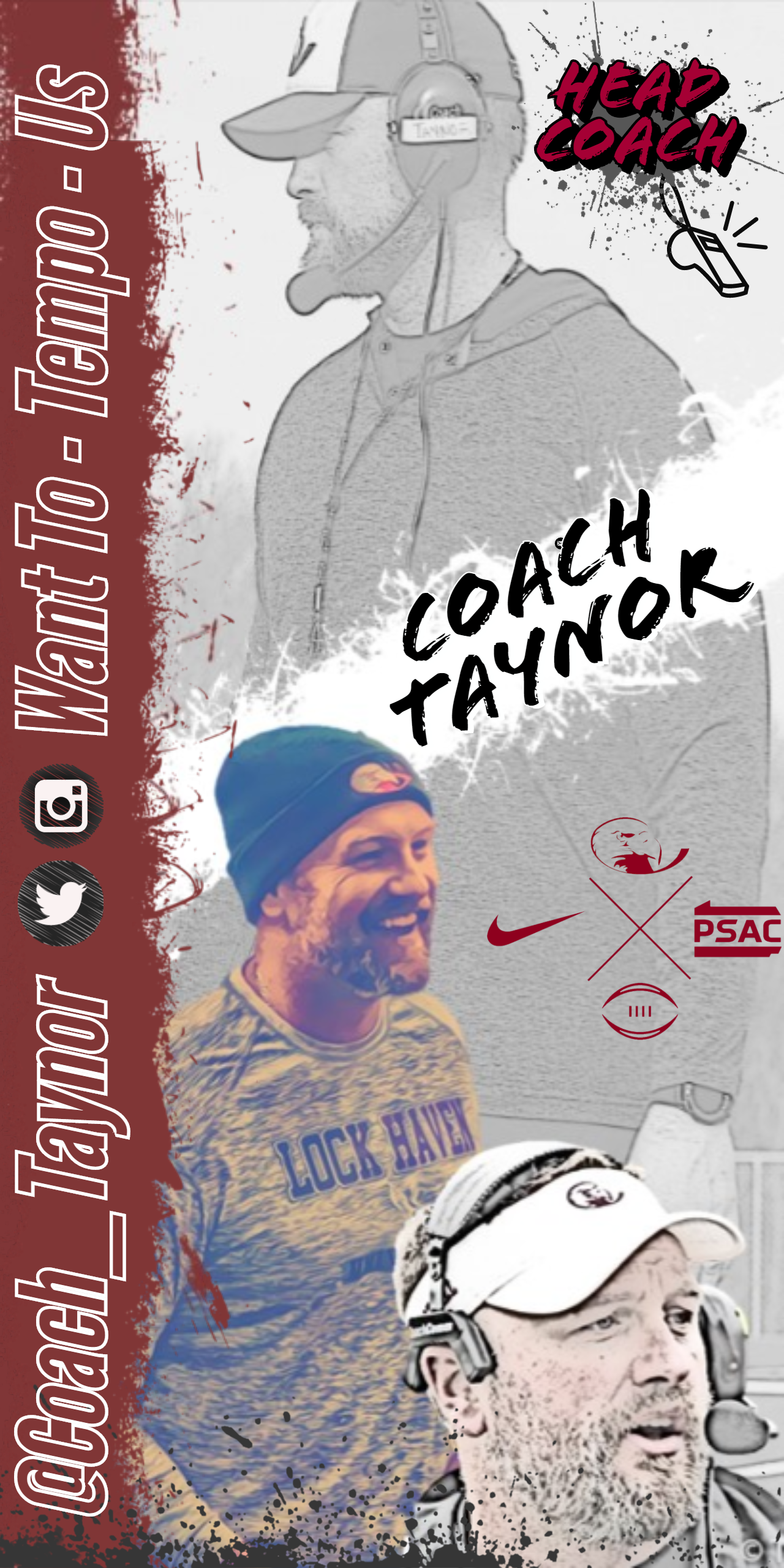 2018 marked Coach Taynor's 4th Season as the Head Coach at Lock Haven University. Upon his arrival in 2015, LHU Football began to see successes that it had not seen in decades, and in fact not seen at all in the Division 2 Era. In 4 seasons, the offense has set school record for Most points scored in a season and Total Offense – twice. Coach Taynor's Offense produced enough in four seasons to place them in the top 10 scoring offenses in school history – 2x, Total Offense – 4x, Passing Yards – 3x, and Rushing Yards.
The Bald Eagles experienced immediate improvement in a number of statistical categories. Offensively, every major offensive statistic not only improved in the conference ranking, but also in the country. The Bald Eagles have also seen a number of streaks broken since Coach Taynor has arrived. LHU defeated East Stroudsburg for the first time since 1989. In the same season, they beat Bloomsburg for the first time in 13 years. Despite the 27 and 13 years long winless streaks, Coach Taynor's Bald Eagles have already defeated these teams twice in his short tenure. Coach Taynor's immediate impact resulted in the first winning season in conference play since 1979.
LHU Football accolades have seen a huge increase than in years past. Under Coach Taynor's leadership, LHU Football players have earned 24 All-PSAC honors including 13 1st Team selections. Taynor's selections are more than the previous 14 seasons combined. The awards are not just limited to the PSAC. Coach Taynor's guidance has led to 9 All-American awards in 4 seasons, including the first All-American in over 12 years. Off the field, his athletes have been rewarded for their efforts as well. From 2015-2017, LHU Football had 41 All-PSAC Academic Honors. The National Football Foundation took notice as well, selecting 4 Bald Eagles, in 4 years for their Scholar-Athlete Award.
Prior to LHU, Taynor was the Head Football coach at his alma mater, Urbana University (Div.2 – OH). While at Urbana, Coach took a program that only had 2 winning seasons in its history and turned it a champion. Urbana University experienced its most successful seasons including two conference championships with his leadership.
Coach Taynor excelled as a player and student as well. He was an All-American Offensive Lineman while at Urbana University and an Academic All-American. He was the first Academic and Athletic All-American in school history.