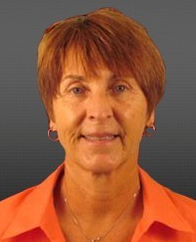 Pat Rudy, LHU Head Field Hockey Coach, has completed her 24th season as the Lock Haven University Head Coach. Rudy has posted 602 victories in her 20 years of dominance at LHU, reaching her 100th victory at Lock Haven in 2001 and her 500th in 2011 and her 600th career victory in 2018, the third most in NCAA field hockey history.
Coach Rudy was inducted into the National Field Hockey Coaches' Association (NFHCA) Hall of Fame in January 2018 for her remarkable career and the endless contributions she's made to the game to date.
Rudy is just the third coach in LHU field hockey history and she is a 1977 Lock Haven State College graduate.
In 2010, she led Lock Haven to the A10 finals and a 2nd place finish in their first year in the Atlantic 10 Conference. Rudy returned to the A10 Conference tournament in 2013, finishing 3rd and again in 2014, finishing 2nd. From 2006 to 2009, Coach Rudy led the Lady Eagles to four consecutive NEC Conference Championships and 4 NCAA play-in berths with a combined record of 71-21. Coach Rudy has guided 37 LHU players to All- American status and 73 to All-Conference honors.
Coach Rudy has three national championships and 24 conference titles on her ledger and was named the Division II National Coach of the Year in 2000.