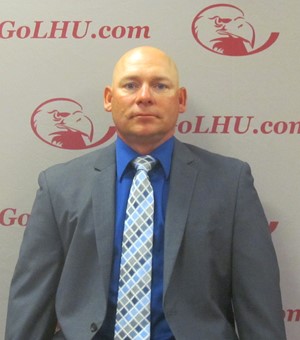 Heath "Smokey" Stover is entering his 19th season (2017 season) as the Bald Eagles assistant baseball coach.
Stover assists the program in all phases of its operation, including recruiting, scouting, game preparation and works directly with all Haven pitchers.
The 2016 season saw the most wins since the 2009 season. The Bald Eagles went 21-28-1 and 9-18-1 in conference play.
Matt Lahn earned Second Team All-Conference honors for his stellar season at utility for Lock Haven.
Stover will look to continue improving the team for the 2017 season as he returns numerous key student-athletes from last year's team as well as bringing in talent that will immediately impact the program.
Leading the way for LHU on the mound in 2017 will be Major League Baseball prospect Jacob Belinda. He has been named the No. 26 prospect in DII by Baseball America.
In 2015, Stover and Jim Chester teamed up in Chester's first year to guide the Bald Eagles to a successful season.
In 2015, after being picked to finish last in the PSAC East, the Bald Eagle finished tied for fifth. The Bald Eagles narrowly missed the PSAC Tournament in the final weekend, while winning their second series of the season versus Kutztown. The fifth-place finish was the highest finish since their last PSAC playoff berth in 2009.
Three Bald Eagles landed on the 2015 All-PSAC East squad, while Freshman Justin Sleigh was recognized on the ABCA All-Region Team.
Stover has also served as featured guest clinician at a number of prestigious local and regional baseball camps, and clinics in recent years.
Prior to joining the staff as an assistant coach, Stover served as a student-assistant coach in the 1997 season. In that year, Stover helped guide the Bald Eagles to an impressive 27-15-2 overall record and 13-7-0 mark in the PSAC West.
Stover is familiar with the baseball tradition at The Haven not only as a coach but also as a Bald Eagle.
Stover played for LHU from 1993-96. He appeared in 150 games while starting 146. His career batting average was .298 (129-433) with 86 RBI and 79 runs scored. He racked up 27 doubles, four triples and 12 homeruns over his four year career. His 72 career walks still ranks him number one in the Lock Haven record books. His legacy is evident in Lock Haven history as he is still ranked in four statistical categories in the batting and fielding record books.
Heath Stover resides in Jersey Shore, Pa. with his wife and three daughters.