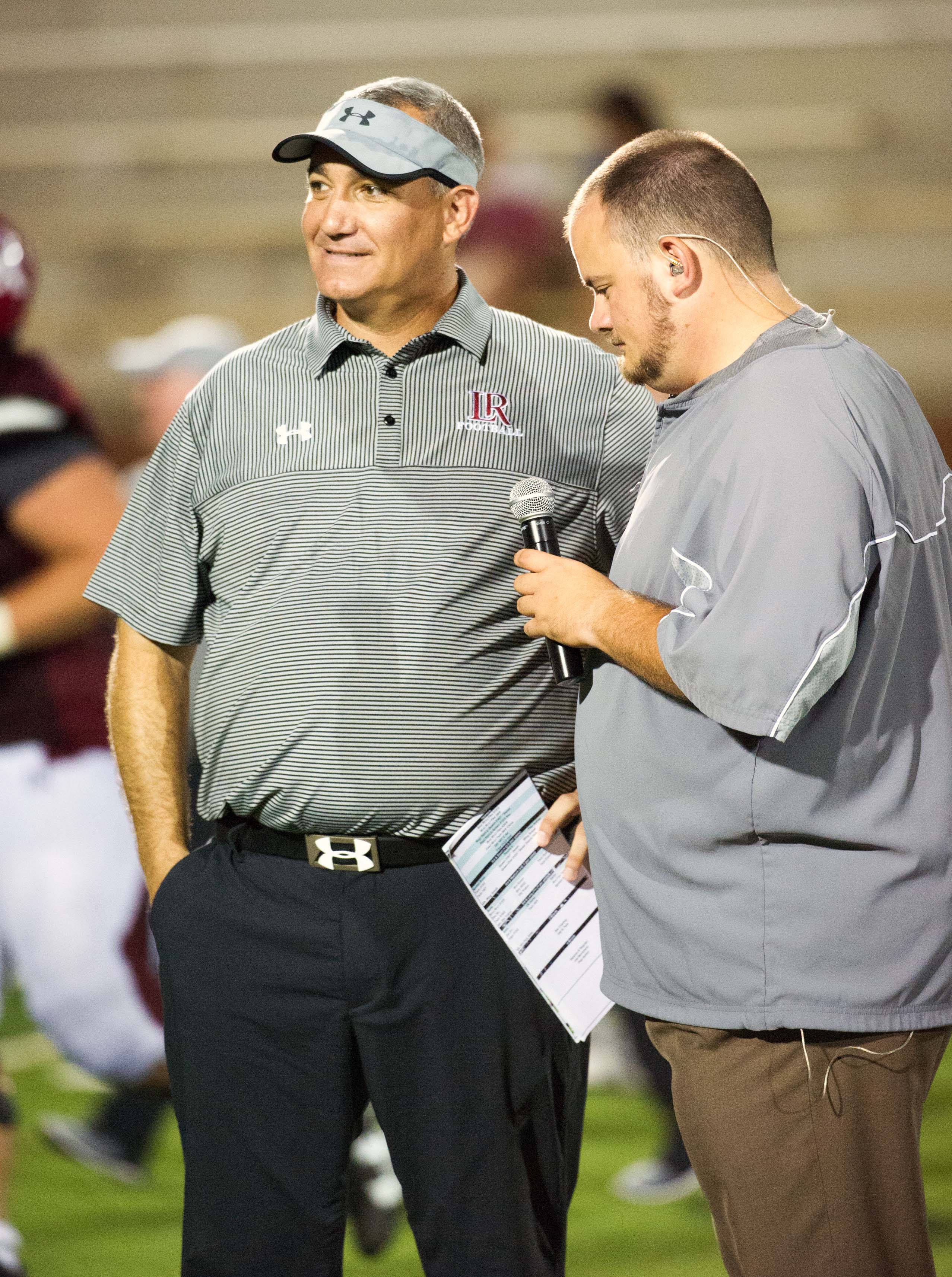 On December 22, 2015, Mike Kellar became the 21st Head Football Coach in Lenoir-Rhyne history. Kellar comes to Lenoir-Rhyne after serving the past four seasons as mentor of the Vulcans of California (Pa.) University.
Kellar completed his fourth season as head coach in 2015 and 10th overall as a member of the coaching staff at California University of Pennsylvania. He previously served as the team's offensive coordinator for five years before serving as the offensive coordinator and associate head coach for offense in 2011.
In four years as head coach, Kellar led the Vulcans to a 31-12 record while playing ten nationally-ranked teams. California has featured six All-Americans in that span, including offensive lineman Eric Kush, who became the second Vulcans player in recent years to be selected in the NFL Draft. In addition, defensive lineman B.J. Stevens led NCAA Division II in sacks per game in 2013 and defensive back Rontez Miles repeated as the PSAC West Defensive Player of the Year and was invited to the NFL Combine.
While away from the program in 2009-10, Kellar guided Concord University (W.Va.) to a 14-8 record as head coach. Prior to his arrival, the Mountain Lions managed only one win in the previous two years and hadn't posted a winning season since 1998.
In 2010, Kellar led Concord to an 8-3 overall record to mark the first eight-win season for the program since it joined NCAA Division II in 1993. Under his guidance, the Mountain Lions featured one of the most balanced offenses in the WVIAC in 2010, ranking second in passing and total offense. Concord also ranked fourth in the country by averaging almost 500 yards of offense per game.
While with the Mountain Lions, Kellar mentored one of the most explosive wide receivers in the country in Thomas Mayo. A two-time All-WVIAC selection, Mayo set a school record and led the country in receiving yards per game in 2009. That season, he became the school's first-ever Harlon Hill regional finalist and was Concord's first All-American since 2002.
In his return to the Vulcans in 2011, Kellar worked with the most prolific passing offense in school history. Quarterback Peter Lalich broke the single-season school records for attempts, completions and passing yards, averaging nearly 300 yards per game. Mayo joined Kellar at Cal U and garnered All-America honors.
Kellar has developed some of the most potent offenses in school history. In 2004 and 2005, he coached the PSAC West Offensive Player of the Year in running back Antoine Bagwell. In 2005, the Vulcans averaged over 460 yards of total offense and scored over 40 points per game.
After California led the PSAC in total offense and rushing offense in 2006, Kellar directed a record-setting offense during the historic 2007 season. The Vulcans rushed for nearly 2,900 yards and totaled over 5,000 yards of offense for the first time in school history.
The following year, California won its first PSAC Championship since 1984 and shattered the single-season school record with over 6,000 yards of total offense. Under the tutelage of Kellar, quarterback Kevin McCabe was a Harlon Hill regional finalist and became the first quarterback in school history to surpass 3,000 passing yards and 30 touchdowns.
In all but one of Kellar's ten years with the program, the Vulcans averaged over 30 points per game. His Vulcans offenses have helped seven players earn All-America status.
Kellar's passion for football began with his own success as a student-athlete. He was the starting quarterback at Glenville State before transferring to Fairmont State, both located in West Virginia. He earned his undergraduate degree in liberal arts from Fairmont State before receiving his master's degree in safety management from West Virginia University.
A native of West Virginia, Kellar and his wife Melissa have four children, Deidra, Jarrod, Anthony and Jacob.