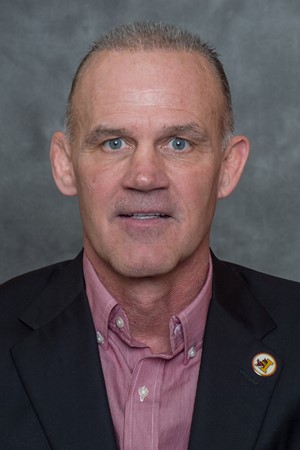 Kevin Dresser, the 2016 National Wrestling Coaches' Association Coach of the Year, enters his second season as the Iowa State head wrestling coach.
The 55-year-old Humboldt, Iowa native, built a national powerhouse at Virginia Tech. Inheriting a team that won one dual in the year prior to his arrival, Dresser led VT to Top 10 finishes at the NCAA Championship during his last four years – including an all-time best fourth in 2016. His teams won 91% of their duals (48-5) the last three years.
Iowa State Athletics Director Jamie Pollard aimed high during the search for a new head coach in 2017 -- with the goal of returning the Cyclone wrestling program to national prominence. Pollard believes Dresser's championship pedigree as an athlete and coach will be a natural draw to recruits as well as an inspiration to the wrestlers on the team.
Dresser has coached 65 NCAA Championship qualifiers, 20 All-Americans and five ACC Most Outstanding Wrestlers. Dresser was named ACC Coach of the Year four years in a row and the state of Virginia's coach of the year five times.
Dresser was named Virginia Tech's coach in 2006-07 after a legendary high school coaching career in Virginia. He led Christiansburg High School (1996-2006) to five state championships and three runner-up finishes in 10 seasons. Before that, he took Grundy High School (1988-96) to eight state titles in as many years. Dresser coached 69 state champions and four of his teams ranked in the Top 10 nationally.
As a competitor, he won two state titles and compiled a 112-11-1 record at Humboldt (Iowa) High School before a distinguished collegiate career at Iowa. The two-time All-American and two-time Big Ten champion won the 1986 NCAA Championship (when he won the Mike Howard Award as Iowa's MVW) and placed fourth at the national meet in 1985. The Hawkeyes won national titles in each of his five seasons on the roster.
Dresser has been inducted into the Iowa School Athletic Association Wrestling Hall of Fame (2009), the Iowa Wrestling Hall of Fame (2014) and is to be inducted into the Glen Brand Wrestling Hall of Fame of Iowa this summer.