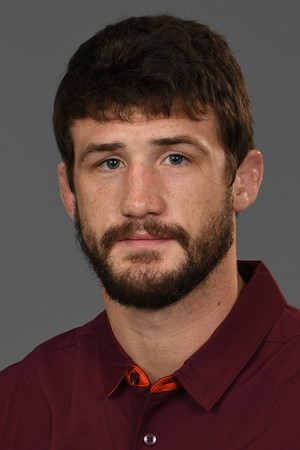 Assistant Coach
Derek St. John
Derek St. John is in his first season as an assistant coach for the Iowa State wrestling program.
St. John was a member of the Virginia Tech wrestling staff in the last two seasons, helping the Hokies achieve unprecedented success.
In 2016-17, St. John helped guide the Hokies to their sixth-straight top-10 finish at the NCAA Championships. VT finished sixth as a team with five individual All Americans. At the ACC Championships, Tech claimed its third conference title in school history, winning six individual titles.
The Hokies finished the 2016-17 campaign with an 18-1 dual mark.
In St. John's first season at VT (2015-16), the team went undefeated in ACC duals and finished a program-best fourth at the NCAA Championships. The Hokies had eight NCAA qualifiers with six earning All-America status.
Tech's record-setting 2015-16 campaign featured third-place finishes by Zach Epperly and Nick Brascetta. Brascetta became the second three-time All-American in program history, ending his career with three ACC championships and four NCAA Championship appearances.
The Hokies won their second-straight ACC dual meet title and finished runner-up at the 2016 ACC Championships in St. John's first season in Blacksburg.
St. John came to Virginia Tech after one season (2014-15) as an assistant coach at North Dakota State. The Bison finished 9-4 overall, including a perfect 5-0 mark in Western Wrestling Conference action, and 23rd at the NCAA Championships.
St. John, who won the 2013 NCAA title at 157 pounds, became the 18th four-time All-American in Iowa history in 2014. He placed fourth at the NCAA Championships as a freshman, second as a sophomore, first as a junior and fifth as a senior, claiming his spot as one of the most decorated Hawkeye wrestlers of all time.
The Parnell, Iowa, native concluded his collegiate career with a record of 106-17. St. John was the 2012 Big Ten champion and a two-time Big Ten runner-up at 157 pounds. He posted a record of 31-2 in his national championship campaign of 2012-13, earning Iowa's Mike Howard Most Valuable Wrestler Award.
St. John graduated from Iowa in 2014 with a degree in business studies.