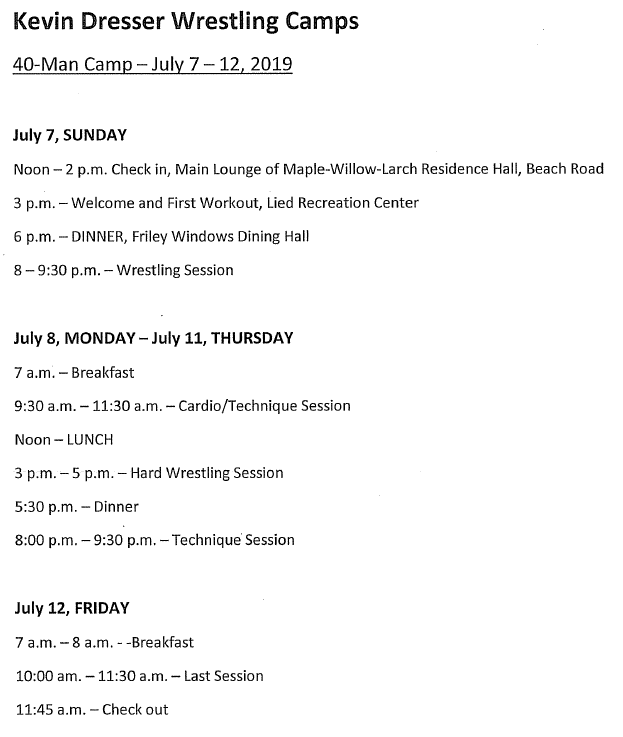 Top 40 Training Camp

July 07, 2019 - July 12, 2019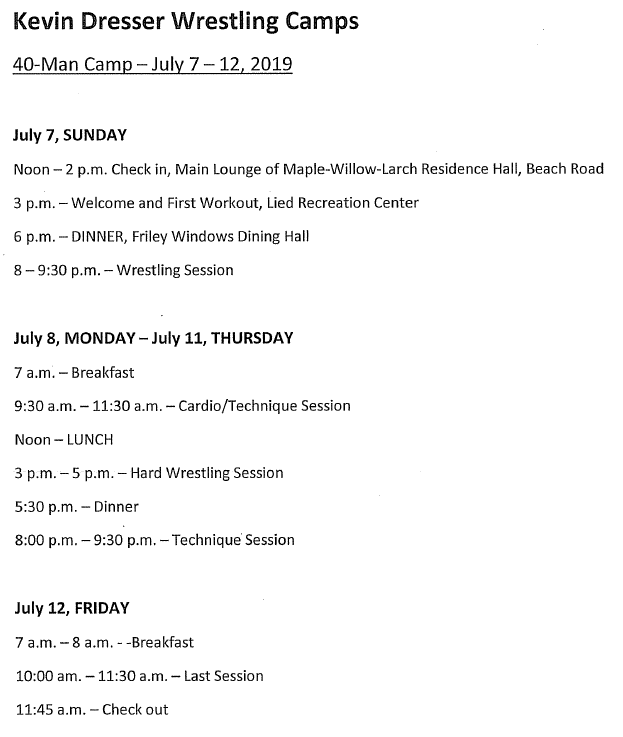 Camp Price will increase after June 14 for Late registration 
This camp is designed for wrestlers ages 12 and above who are serious about the sport and want to learn more about the training and lifestyle necessary to succeed at the highest level. You will receive individual attention from our all-star coaching staff, which includes Olympians, world medalists, and NCAA champions. Wrestlers will train in groups matched by age and ability. Our coaches will help you learn how to succeed technically, mentally, and nutritionally. You will stay in air-conditioned Iowa State residence halls and eat in the college dining hall.
Note that residence-hall rooms are supplied with sheets, pillow, pillowcase, blanket, two towels, and one washcloth. Towel exchange is available daily.
 What to bring to camp:
 Change of clothes (gym shorts and t-shirt) for 3 sessions a day, including underwear.
Wrestling Shoes
Running Shoes
Clothes for when you aren't wrestling -- jeans, shorts, t-shirts
Sweat shirt
Toiletries
**Pizza, snacks, and energy drinks will be available at the camp store each day.
Refunds and Session Changes
All requests for refund or session changes must be received by email or fax. All deposits are nonrefundable (NO EXCEPTIONS). If a camper withdraws from the camp for any reason up until 14 days prior to the start of that camp session, tuition will be refunded less the deposit amount. If a camper withdraws after 14 days prior to the start of camp refunds will be considered on an individual basis. If a camper withdrawls after 7 days prior to camp NO refunds will be granted. If a camper withdraws from camp for any reason after camp has begun NO refund will be granted. If a refund is granted payment will NOT be processed until after the conclusion of our entire summer camp season. Refunds most likely will NOT be received until sometime in the month of August.
Lied Recreation and Athletic Facility
July 07, 2019 - July 12, 2019 | Ames, Iowa
Sun, July 07, 2019 - Fri, July 12, 2019
224 Beach Rd
Ames
,
Iowa
50011