Cross Country Camp

July 26, 2020 - July 29, 2020
Want to be the best runner you can be? Want to learn more about the Sport you love? We want to help you in achieve your best from August July 26-29th and set you up for the season of your life. Come and learn from some of the best Distant Coaches in the nation. 
Coach Tolsma helped coach 2 NCAA Cross Country Champions. He has also helped coach Sam Chelanga to a 27:08 10k which is still the NCAA National Record to this day.
Coach Isaac Wendland is a certified level 1 Cross Country Specialist by USATF. As a runner he was a 14 time state champion in Iowa Track and Cross Country, with three of them coming Cross Country where he won Sophomore-Senior year. His accomplishments on the Cross Country course and Track has put him in the Iowa Track and Field Hall of Fame as one of the most decorated runners in the states history. Wendland ranks among Liberty's all-time top five performers for three different events, including the outdoor 1,500 (No. 2, 3:43.91), indoor 1,000 (No. 3, 2:24.74) and outdoor 800 (No. 5, 1:50.22). He was a seven-time All-Big South performer on the track during his career.
Coach Rachel Johnson is a ASICS professional runner and six-time All-American Rachel Johnson joined the Liberty staff as an assistant track & field/cross country coach during the summer of 2019. She primarily works with the Lady Flames' distance runners.
During her first cross country season at Liberty, Johnson coached the youthful Lady Flames to second place in the ASUN Conference and 13th place in the Southeast Region. Freshman Adelyn Ackley and sophomore Calli Parlier finished 1-2 individually at the ASUN meet with two of the top three 5K times in program history.
Johnson comes to Lynchburg from Flagstaff, Ariz., where she is coached by Olympian Ryan Hall. Johnson has also coached a number of high school athletes through her Run World Coaching program.
Since completing her eligibility from Baylor in 2015, Johnson has competed in the steeplechase at the 2016 U.S. Olympic Trials and finished seventh in the 2016 USATF 5K Championship on the roads. Johnson also posted a 10K PR of 32:32.84 at the 2018 Payton Jordan Invitational in Palo Alto, Calif.
Johnson earned six All-America honors at Baylor with a top finish of second in the 5K at the 2015 NCAA Division I Indoor Track & Field Championships. She also captured four Big 12 Conference titles, including back-to-back steeplechase crowns in 2014 and 2015 and a sweep of the 2015 indoor 3K and 5K championships.
During her time at Baylor, Johnson captured a gold medal for Team USA in the steeplechase at the 2014 NACAC Under-23 Championships. That same year, she placed fifth in the event at the USATF Outdoor Championships in a personal-best 9:41.56.
Johnson has enjoyed success ever since her days at Plano Senior High School in Plano, Texas. As a senior, she won the 2010 Nike Cross Nationals individual title and was the Foot Locker Cross Country Championships national runner-up.
Johnson earned a bachelor's degree in exercise physiology from Baylor, graduating in 2016.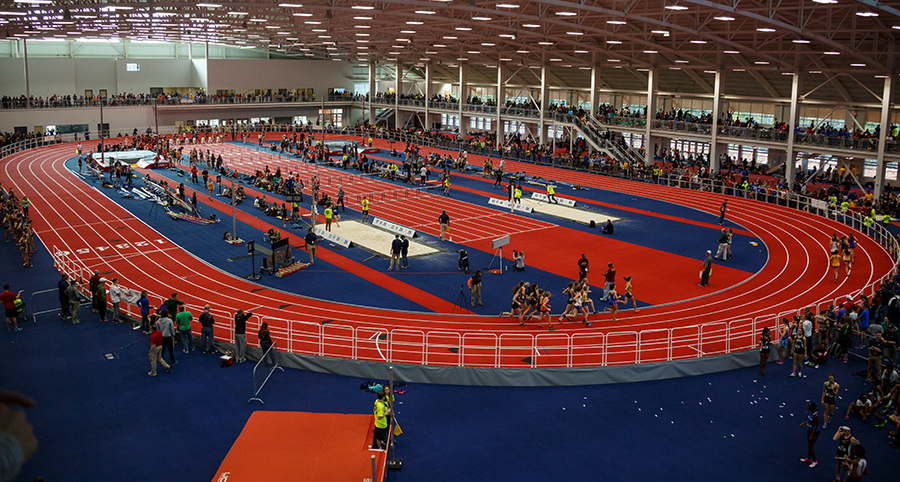 Liberty Indoor Track & Field Complex
Gender: CoEd | Ages: 13 - 19
July 26, 2020 - July 29, 2020 | Lynchburg, Virginia
Sun, July 26, 2020 - Wed, July 29, 2020
1501 Liberty Mountain Dr
Lynchburg
,
Virginia
24502