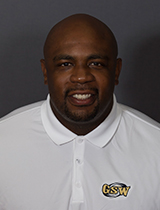 Ben Hicks comes to Georgia Southwestern from Columbus State University where he was an assistant coach for four seasons under Robert Moore.
The 2015-16 campaign capped a successful run at Columbus State for Hicks as the Cougars won the Peach Belt Conference regular season title with a record of 14-5, made their second straight trip to the NCAA National Tournament and finished with an overall mark of 21-8.
While at CSU, Hicks helped the Cougars post a .625 winning percentage with a record of 70-42.
Hicks becomes just the fourth head men's basketball coach at GSW since 1990. He takes over for Leeder, who completed 10 seasons at the helm.
Hicks, a Phenix City, Ala. native, arrived at CSU following a one-year stint at NCAA Division I member Jacksonville State University where he helped guide the Gamecocks to the Ohio Valley Conference Tournament and just their second-ever tournament win.
Prior to JSU, Hicks enjoyed four successful years as the head coach and athletic director at Alabama Southern Community College in Monroeville, Ala. After a 15-15 record his first year at the helm, Hicks had one of the best three year stretches in school history posting a 73-22 overall record and 42-6 mark in ACCC action. He posted three straight 20-win seasons including a 27-5 record in the 2009-2010 season in which he received the Birmingham Tip Off Club's Glen Clem/Junior College Coach of the Year Award and his second consecutive ACCC Coach of the Year award.
Before arriving at Alabama Southern, Hicks served as assistant coach and recruiting coordinator at Chattahoochee Valley Community College in Phenix City, Ala., for head coach Richard Mahone from 2005-2007. In addition to his recruiting efforts, Hicks played an instrumental role in the team's overall academic development and skill improvement which included: scouting, marketing, and public relations for the CVCC Pirates basketball program. During his two seasons at CVCC, the Pirates played in consecutive state championship games.
Hicks got his start in the coaching ranks as an assistant coach at Middle Georgia College during the 2002-2003 season before being named interim head coach for the 2004-2005 season.
Hicks is a 1997 graduate of Russell County High School before playing college ball at Bevill State Community College in Jasper, Ala., and wrapped up his career at Shorter College in Rome, Ga.
He graduated from Shorter in 2003 with a bachelor's degree in Liberal Arts and then went on to get his master's in Sport and Fitness Management from Troy University in 2007. He is a member of Omega Psi Phi Fraternity, Inc.
Hicks has two sons, Trey and Benjamin, and daughter, Brianna.