Satellite Camp in Fairfax @ George Mason High School

July 26, 2018 - July 27, 2018
GW Volleyball has teamed up with George Mason High School to provide collegiate training to local youth volleyball enthusiasts. This is an all-skills camp for raising girls 5th through raising 12th graders. The camp will cover all general skills (passing, setting, hitting, serving, and blocking). We will also demonstrate team defense, serve receive, and have positional breakdown experiences.
Check-in will be at 8:30 a.m. on the first day. Activities will start at 9 a.m. and end at 4 p.m. Each camper should bring their own lunch.
If this camp is the right one for your daughter, you may choose to pay via credit card through ARMS today with a 6% processing fee; or you may bring a check or money order to check-in on the first day.
Day 1
9 a.m. to 12 p.m. -- Session 1: Passing, Hitting
12 p.m. to 1 p.m. -- Lunch Break
1 p.m. to 4 p.m. -- Session 2: Setting, Serving, Position(s)
Day 2
9 a.m. to 12 p.m. -- Session 3: Team Defense, Blocking
12 p.m. to 1 p.m. -- Lunch Break
1 p.m. to 4 p.m. -- Session 4: Wash drills, Games
All campers will receive instruction from coaches who have a combined 30+ years experience coaching at the collegiate level. Coaches are also collegiate players who enjoy working with young volleyball players to hone their skills for their respective school and club tryouts.
At George Washington University, we hope to inspire young volleyball enthusiasts to develop their skills. We are looking forward to these summer sessions!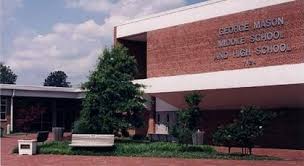 Mary Ellen Henderson Middle School
Satellite Camp in Fairfax @ George Mason High School
Gender: Female | Ages: 10 - 18
July 26, 2018 - July 27, 2018 | Falls Church, Virginia
Thu, July 26, 2018 - Fri, July 27, 2018
7130 Leesburg Pike
Falls Church
,
Virginia
22043