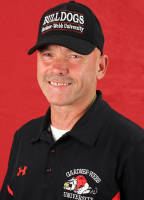 The winningest coach in Gardner-Webb softball history, head coach Tom Cole begins his 16th season at the helm of the Runnin' Bulldogs in 2015-16.
Cole came to Gardner-Webb in 2000-01 and produced immediate results, overseeing GWU's transition to the NCAA Division I level and directing the Runnin' Bulldogs to a school-record 36 wins in just his second year in Boiling Springs, N.C.
In 19 years as a collegiate head coach, Cole has amassed 415 career wins, including 286 wins during his time at Gardner-Webb, which makes him the only coach in the Runnin' Bulldogs' softball history with over 200 wins. He picked up his 300th career victory with a 6-0 win over Presbyterian on March 18, 2008 and his 400th in a 4-2 win over Campbell on May 10, 2012.
Since Gardner-Webb officially joined a conference in 2002-03, Coach Cole has mentored 26 All-Conference players, including four All-Freshman Team selections and 2011 Big South Freshman of the Year in Samantha Meenaghan.
In fact, since the Runnin' Bulldogs joined the Big South in 2009, Coach Cole has had at least two players or more named to the Big South All-Conference Teams in each season.
Cole has also seen three players in Samantha Meenaghan (2012), Amanda Gomes (2012) and Christa Fullwood (2010) named to the NFCA Mid-Atlantic All-Region Teams, 11 players earn NCCSIA All-State honors and four players receive College Sports Madness Big South All-Conference recognition, including both Meenaghan and Morgan Baker who each earned that feat twice during their time at GWU.
He also coached three NCAA Division I All-Independent selections, two National Christian College Athletics Association (NCCAA) All-Americans and five NCCAA All-Region honors during his stint at GWU.
In 2010, Fullwood was also named as a Lowe's Senior CLASS Award Finalist, a first in GWU's history.
He has had 12 players receive postseason conference All-Tournament honors and has had a student-athlete tabbed as either the Conference Player of the Week or the Conference Pitcher of the Week on 19 different occasions in the Atlantic Sun and the Big South since the 2003 season.
In 2013, Meenaghan was ranked in the top-30 in the nation in hitting with her .427 batting average on the season, while Kellie Beres was second in the nation among all NCAA Division I softball programs with an average of 0.41 sacrifice bunts per game.
In 2009, Gardner-Webb's Fullwood also made waves nationally, as at the conclusion of the season, she was ranked seventh in the nation in batting average with her average of .460 on the year, ranked 23rd in the country in on-base percentage at .519 and 48th nationally in slugging percentage at .719.
In 2007, Melody Harrell finished the season ranked ninth in the NCAA with 1.09 RBIs per game after amassing 51 in just 47 games, while Abbie Looper, after blasting one final triple in her career in the second round of the A-Sun Tournament, ended her season 14th nationally in triples per game (0.10).
His 2007 squad also posted a 23.5 game improvement in the wins and losses category, which ranked as the eight-best turnaround in all of Division I history,
Cole, who's 2007 finished as the Atlantic Sun Runner-Ups after sweeping through the Atlantic Sun Championship Tournament to reach the Championship game, has guided the Runnin' Bulldogs to within one game of the Big South Softball Championship game in two of the last three seasons.
Cole also took his 2002 team to the National Christian College Athletics Association Tournament Championship game, as the Runnin' Bulldogs took second-place overall. For his efforts, Cole was named the NCAA Division I Independent Coach of the Year in 2002.
The 2004 Atlantic Sun Coach of the Year has recorded six 20-plus win seasons during his time at GWU, including a program best 36 wins in 2002, 35 wins in 2007 and 30 wins in 2004.
In the summer of 2007, Cole took over the reigns of the Michigan Ice professional softball team for the final three series of the season. While with the Ice, he was able to coach his former student-athlete, former assistant coach, and current Wingate Softball head coach Lani Shaffer, who was playing her second season with the team.
Prior to coming to GWU, Cole was the head coach at NCAA Division III Elmhurst (Ill.) College. There, the Jamison, Pa., native inherited a program that had to forfeit the last two games of its previous season due to a lack of players. Cole wasted little time in turning around the struggling program and during his five seasons there, became the winningest coach in the history of the program. In 1997, Cole was named the CCIW Coach of the Year and the NFCA Division III Midwest Regional Co-Coach of the Year.
Cole earned a bachelor's degree in recreation and parks administration from North Carolina State University in 1977. Cole then went on to get his master's degree from Florida International University in 1989.