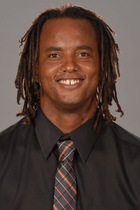 Since returning to his alma mater in 2004, Demian Brown has been an integral part of developing the Titans into an emerging national contender over the last 12 years.
In nine seasons as head coach of the Cal State Fullerton women's soccer program, Brown has steered the Titans to four Big West regular season championships (co-2007, 2012, 2014, tri-2015) and four Big West Tournament championships (2007, 2013, 2014, 2015) representing the league as the Big West's automatic qualifier at the NCAA Tournament for three straight years (2013, 2014, 2015) in addition to the Titans' postseason trip in 2007.
The third head coach in the history of the Titan program hired in February of 2007, Brown has managed an 84-75-25 (.522) overall record and a 40-27-6 (.589) mark in Big West Conference play.
During his tenure, Brown has been voted the Big West Conference Coach of the Year on three occasions (2007, 2012, 2014), while tutoring two-time Big West Conference Offensive Player of the Year Rebecca Wilson (2014, 2015), two Big West Conference Defenders of the Year (Jenae Gibbens 2007; Morgan Batcheller 2015), three Big West Conference Goalkeepers of the Year (Shayla Sabin 2007, Lindsey Maricic 2013, Jennifer Stuart 2015), three Big West Midfielders of the Year (Stacey Thompson 2007, Erica Mazeau 2013, Christina Burkenroad 2015), four Big West Tournament MVPs (Shayla Sabin 2007, Katie Pulliam 2013, Christina Burkenroad 2014 & 2015) and 44 all-Big West Conference selections, including 19 on the first team.
Since 2007, 13 Titans have been named to the National Soccer Coaches Association of America West Region team, while following the 2015 season, Rebecca Wilson became the first Titan to receive first-team NSCAA All-America honors.
Wilson is also the program's first MAC Hermann Trophy semifinalist, while Fullerton has had three players named a Senior CLASS Award candidate with one reaching the finals. Brown has also coached three Big West Scholar Athletes of the Year and 51 Big West all-Academic selections.
Brown served as an assistant coach at Cal State Fullerton for three seasons (2004-06) before being named head coach.
Over the last 12 years as both an assitsant coach and head coach, Brown has helped the Titans to a 126-95-28 (.562) overall record with six Big West regular season titles (2004, 2005, 2007, 2012, 2014, 2015), six conference tournament crowns (2005, 2006, 2007, 2013, 2014, 2015) and six appearances in the NCAA Tournament - including a trip to the "Sweet 16" in 2005 a second round berth in 2006 and first round trips in 2007, 2013, 2014, and most recently, 2015.
Prior to his collegiate coaching debut, Brown guided the Cal-South Women's Soccer State Select Team to the George F. Donnelly Cup title in January of 2006, posting a perfect 4-0 record at regionals and outscoring teams from Massachusetts, Illinois and Tennessee by a combined 8-0 total to win the crown.
During the summer of 2011, Brown also assumed the reins of the Los Angeles Strikers of the United Soccer League's W-League four matches into the franchise's inaugural season and recently completed a full season at the helm of the club in 2012.
Brown came to Cal State Fullerton after spending five years as an assistant coach for the men's program at UC Irvine under current Cal State Fullerton men's soccer head coach George Kuntz, helping lead the Anteaters to the Mountain Pacific Sports Federation Tournament in 2000 and coaching the 2001 Big West Conference Defensive Player of the Year (Saul Wolf).
A 1997 graduate of Cal State Fullerton with a degree in communications, Brown was a four-year letter winner for former Head Coach Al Mistri as a defender for the Titans from 1992-94 and 1996, helping Fullerton to the semifinals of the 1993 College Cup.
He was selected to the 1993 NCAA All-Tournament Team and was a two-time All-MPSF selection, finishing his career with four goals and three assists. Brown also competed in the 1994 U.S. Olympic Festival in St. Louis.
He currently resides in Fullerton with his wife, Gina, sons, Mathias, Xavier and Tobias, and daughter, Dalia.
NCAA TOURNAMENT APPEARANCES
• 2007 NCAA First Round
• 2013 NCAA First Round
• 2014 NCAA First Round
• 2015 NCAA First Round
CHAMPIONSHIPS
• 2007 co-Big West Regular Season Championship
• 2007 Big West Tournament Championship
• 2012 Big West Regular Season Championship
• 2013 Big West Tournament Championship
• 2014 Big West Regular Season Championship
• 2014 Big West Tournament Championship
• 2015 Big West tri-Regular Season Championship
• 2015 Big West Tournament Championship
HONOR ROLL
• 2007 Big West Conference Coach of the Year
• 2012 Big West Conference Coach of the Year
• 2014 Big West Conference Coach of the Year