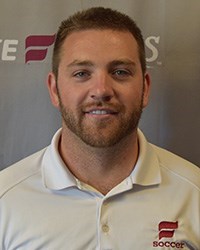 Head Coach
Brandon Heembrock
Brandon Heembrock enters his third season as Head Women's Soccer Coach at Fairmont State. Heembrock took over the program in January 2017.
Fairmont State soccer finished the 2018 season with a 8-6-4 overall record and its first Conference Playoff appearance after recording just four wins in the first two seasons as an NCAA Division II program in 2015 and 2016. During the 2017 season, the Falcons recorded a 5-7-6 record with 14 of 18 games were decided by a single goal or less.
Following the 2018 season, three Fairmont State players earned All-Mountain East Conference honors, one honorable mention and three Freshman were named to the All-Freshman Mountain East Conference team, the most of any MEC program.
Heembrock took over the Falcon soccer program after spending the previous five seasons at Francis Marion University, most recently as the assistant men's soccer coach.
"It is a privilege to welcome Brandon to Fairmont State to lead our women's soccer program," said McNeely. "Brandon's vision for the FSU women's soccer program and his success as a player and coach stood out to our entire committee during the interview process and we look forward to seeing Brandon's immediate impact on the program."
Over four seasons as the assistant men's soccer coach at FMU, the Patriots have compiled a record of 41-22-9. FMU has also finished with double-digit wins in three of the last four years and have advanced to the Peach Belt Conference semifinals three times.
Heembrock helped develop seven all-conference selections and three all-region standouts during his time with the Patriots and coached the first Peach Belt Conference Player of the Year in program history.
"I would like to thank Mr. McNeely and the entire selection committee for their time and efforts during the selection process and I am excited to get to Fairmont and put my stamp on the FSU women's soccer program," said Heembrock. "Seeing the recent success of other athletic programs at Fairmont State, I look forward to having that same kind of success with the women's soccer program."
In 2014, Francis Marion recorded a record of 12-4-2 and appeared in the NCAA Division II National Rankings during the regular season. The Patriots narrowly missed a bid to the NCAA tournament during that season. The previous season in 2013, the Patriots made a run to the Peach Belt Conference Championship Match, finishing the year with a 10-5-4 record.
Prior to joining the men's program at FMU, Heembrock spent one season as an assistant for the Patriot women's program. During that season, Heembrook helped lead the program to its best finish in five season, going a perfect 6-0 in home matches.
Heembrock is a product of Dominican College in Orangeburg, N.Y., where he was a standout goalkeeper for FMU men's coach John Campbell. A four-time All-Conference selection and a two-time All-Region honoree, Heembrock concluded his collegiate career with 405 saves, a 0.91 goals against average, and 24 shutouts in 73 appearances.
As a junior, he led NCAA Division II with a 0.874 save percentage, one of three seasons he ranked among the Top 5 in the nation. He also finished each of his last three seasons ranked fifth or higher in total saves.
He served for three years on the college's Student-Athlete Advisory Committee (SAAC) and in 2011 was named Dominican's Top Senior Male Scholar-Athlete.
Heembrock graduated in 2012 with a Bachelor's of Science in Education from Dominican College. He continued his education at Francis Marion University, receiving a Master's in Education in December 2016.
Heembrock continued his playing career as a member of the Ottawa Fury and the Toronto Lynx of the PDL, as well as with the Calgary Callies of the Alberta Major Soccer League.
Heembrock also spent three seasons as a coach for the Olympic Development Program (ODP) in South Carolina, including serving as a head coach for the last two seasons in the 2002 age group. As an ODP head coach, Heembrock helped 14 players advance into the regional pool and four players were selected to the national pool.
Heembrock also received an advanced national coaching license from the NSCAA.