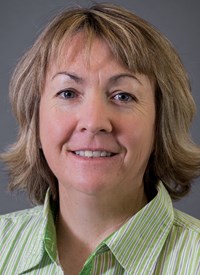 Head Coach
Wendy Schuller
Entering her 18th season at the helm of Eastern Washington University Women's Basketball in 2018-19, Wendy Schuller has become a household name in the Cheney and Spokane communities, leading the Eagles to new heights both on and off the court.
Eastern has advanced to the Big Sky Conference Tournament in 14 of Schuller's 17 seasons as head coach, including the past seven campaigns. She also guided EWU to its first-ever bid to the WNIT following the 2009-10 season before taking the Eagles back to the prestigious invitational at the conclusion of the 2012-13 season and again in 2014-15.
Under Schuller's tutelage, players have earned a total of 34 All-Big Sky awards while Julie Piper and Brianne Ryan received Big Sky Player of the Year honors in 2010 and 2012, respectively. She also coached Julie Page to the program's first-ever Big Sky Newcomer of the Year honor in 2004 while 2013 saw Hayley Hodgins become the first player to earn Big Sky Freshman of the Year accolades in twenty years. Page would go on to compete in the 2012 London Olympics as a captain for Great Britain's national team.
Schuller has also established EWU Women's Basketball as one of the nation's top academic programs in her time in Cheney. The Eagles have earned a spot on the prestigious Women's Basketball Coaches Association (WBCA) Academic Top 25 Honor Roll in 12 of Schuller's 13 seasons in charge, something achieved by only one other team in NCAA Division I history. Eastern has been among the top five academic teams in the country in eight of those 12 years, including the 2003-04 campaign when it led the nation with a 3.63 grade point average.
Most recently, Schuller coached the Eagles to a 19-14 overall record during the 2016-17 season. EWU finished fourth in the Big Sky Conference standings and made it to the tournament for the seventh year in a row. Schuller led the team to their first-ever bid in the Women's Basketball Invitational where they made it to the second round with a 66-62 overtime victory over Texas State. Schuller coached a trio of Eagles to All-Big Sky honors, as Delaney Hodgins (first team), Tisha Phillips (second team) and Ashli Payne (honorable mention) all earned conference recognition.
She led Eastern to a winning campaign in 2004-05 (16-12) to start the team's second set of consecutive winning seasons for the Eagles since the 1986-87 and 1987-88 campaigns.
In 2003-04, Eastern advanced to the Big Sky Tournament semifinals for the third-straight season. Prior to that, Eastern had not made it past the first round since 1994-95.
Schuller's successes at Eastern have been making waves throughout the entire Northwest. She has been a featured speaker at various basketball coaching clinics in the area.
But her contributions in the community extend beyond basketball. Every year, Schuller and her team volunteer with Special Olympics Washington, Habitat for Humanity and the Hutton Settlement -- a state residence that provides housing for orphaned children ages 5-18. Schuller was also recently named to the Spokane Guilds' School and Neuromuscular Center Board of Directors.
Prior to arriving at Eastern, Schuller began her coaching career at Northwestern State University. In 1993, she started coaching as a graduate assistant for the Lady Demons while earning a master's degree in sports administration.
Following graduation, Schuller became a full-time assistant, and her duties included acting as defensive coordinator and primary recruiter, working on opponent preparation and general operations. In 1997, she was promoted to associate head coach.
Her last six years at the Natchitoches, La., school saw her also serve as the senior woman administrator. In total, Schuller coached for nine seasons at NSU under head coach James Smith -- the most successful coach in Southland Conference history. In that time span, the team won 185 games and two conference titles and earned a pair of wins over top-25 teams, as one of the top-30 winningest NCAA Division I programs of the 1990s.
Schuller earned her bachelor's degree in business in 1992 from Fresno Pacific University after playing for the Sunbirds as a shooting guard.
Her senior season, she helped lead FPU to a 25-6 record, a No. 14 ranking in the NAIA national poll and advancement to the NAIA Tournament's Round of 16. She was also selected as an NAIA Academic All-American that season.
A native of Redlands, Calif., Schuller and her husband, Mark, have two sons, 17-year-old Rory and 7-year-old Brandon, and one daughter, 13-year-old Megan. The family resides in Cheney.