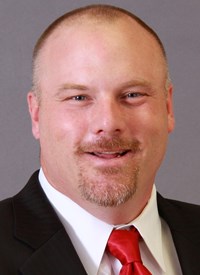 The 20-year veteran of the Eastern Washington University football program was named as EWU's 21st head football coach on Jan. 21 by EWU athletic director Bill Chaves.
Best has spent 20 seasons since the fall of 1996 as a player and coach at Eastern, including the last nine seasons as Eastern's offensive line coach under former head coach Beau Baldwin. Baldwin announced Jan. 16 he was leaving Eastern to take the offensive coordinator position at Cal.
Besides coaching the offensive line as a full-time assistant for 14 of his 16 seasons on the coaching staff, Best has also served in various coordinator positions, most recently as the team's running game coordinator and as the program's long-time academic coordinator. He was a student assistant coach in 2000 and a graduate assistant in 2001, then became the school's primary offensive line coach from 2002-2006, and again from 2008-16.
Among the offensive linemen he coached was Michael Roos, who went on to a 10-year career with the Tennessee Titans in the National Football League. With Best on the coaching staff, Eastern has had 14 different offensive linemen earn All-America accolades, with those players combining to win first team All-Big Sky Conference honors on 15 occasions. He played alongside four other All-Americans at EWU who all earned first team All-Big Sky honors, in addition to himself earning both honors when he played for the Eagles from 1996-1999. In all, in Best's 20 seasons as an Eagle, EWU players have won 21 first team All-BSC honors, 18 second team accolades and 31 honorable mentions.
Best is only the fifth head coach since 1979 for the Eagles, and the third since then who played collegiately as an offensive lineman. Dick Zornes, who is also an Eastern graduate, coached at EWU from 1979-93 before former Idaho offensive lineman Mike Kramer took over from 1994-99. Washington State offensive lineman Paul Wulff took over from 2000-2007 until Baldwin, a Central Washington graduate, took the reins in 2008.
Best helped coordinate an offense in 2016 which set seven Big Sky Conference records and two additional EWU marks for a total of nine school records. Eastern finished the year ranked second in FCS in total offense with an average of 529.6 yards per game and was the FCS leader in passing offense (401.0 yards per game). Eastern was also third in scoring offense (42.4).
Eastern's offense excelled after Best helped develop an offensive line that lost all five starters from EWU's 2015 squad plus two other seniors. In the last eight games of the 2016 season, the starting lineup consisted of two redshirt freshmen and a trio of sophomores. Eastern finished 12-2 overall and was a perfect 8-0 in the Big Sky Conference.
In the last 13 seasons (2004-16) – 12 with Best on the coaching staff -- EWU has ranked in the top 10 in passing 11 times, in total offense on nine occasions and scoring five times. In 2016, center Spencer Blackburn was a second team All-Big Sky selection and went on to earn sophomore All-America accolades.
Roos became the highest NFL draft choice in school history when he was chosen in the second round – 41st overall – by the Tennessee Titans in 2005. A season-ending knee injury in 2014 led to his retirement from the NFL after 10 seasons. He credited Best in his retirement statement on Instagram on Feb. 26, 2015.
Best started 22-straight games at center for Eastern in 1998 and 1999, earning honorable mention All-Big Sky honors as a junior and first team honors as a senior. He also earned honorable mention All-America honors his final season.
An outstanding student with a 3.3 grade point average, as a senior he was selected to the CoSIDA Academic All-District VIII team and was selected to the FCS Athletic Directors Academic All-Star Team. Twice he was selected to the Big Sky All-Academic team. He received his bachelor's degree in social science from EWU in 2001.
He was Eastern's long-snapper for four seasons and was a backup lineman in 1997 when Eastern led the NCAA Football Championship Subdivision in total offense (505.6 yards per game). That team finished 12-2 and advanced to the FCS "Final Four." The Eagles were 30-17 in the four seasons Best played for EWU, and Eastern had a 1,000-yard rusher each year. In all, the Eagles have had a 1,000-yard rusher in 11 of the 19 seasons Best has been at EWU.
Best graduated in 1996 from Curtis High School in Tacoma, Wash., where he had a 3.75 grade point average. He was co-captain his senior season as Curtis won the State AAA championship.
Best was born Jan. 27, 1978, in Tacoma, Wash. He and the former Kim Walker were married on July 15, 2007, in Everett, Wash. They have three children – one son, Tank (8), and two daughters, Tenli (6) and Texis (3).