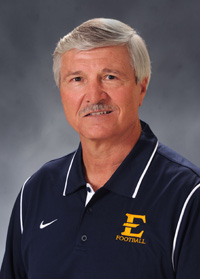 Carl Torbush was named head coach of the East Tennessee State University football program on June 21, 2013, and tasked with resurrecting a program that will kick off a new era of play in the fall of 2015.
Torbush, whose career includes head coaching stops at North Carolina and Louisiana Tech, has built a strong reputation as an outstanding defensive strategist after having served as a defensive coordinator at six FBS programs, including Alabama, Mississippi, Mississippi State, Kansas, Texas A&M and UNC.
The most notable coaching stop on Torbush's resume was at North Carolina, where he served as defensive coordinator from 1988-97 before being promoted to head coach for three seasons (1998-2000).
While at North Carolina, Torbush's defenses led the ACC in 1995, 1996 and 1997 and he was named National Defensive Coordinator of the Year in 1996. As head coach of the Tar Heels, Torbush guided UNC to a pair of bowl wins, capturing the 1997 Gator Bowl and the 1998 Las Vegas Bowl. In total, Torbush has been a part of 11 teams that have made bowl appearances.
A 1974 graduate of Carson-Newman College, Torbush spent the 2012 season as linebackers coach at Liberty University under the direction of head coach Turner Gill. In 2010, Torbush also worked under Gill as defensive coordinator and linebackers coach at Kansas.
Prior to joining Gill at Kansas, Torbush spent six out of the previous nine seasons as a FBS defensive coordinator at Mississippi State (2009), Texas A&M (2003-05) and Alabama (2001-02). During each stop, Torbush had direct oversight of each program's linebacking corps.
During his time at Alabama, Torbush helped guide the Crimson Tide to a No. 3 final national ranking in total defense during 2002 and he was named SEC Assistant Coach of the Year in 2002.
Sandwiched between his three FBS defensive coordinator stops, Torbush returned to his alma mater and served as assistant head coach and linebackers coach at Carson-Newman for three seasons (2006-08). During that three-year span, Carson-Newman posted a 25-8 record, spotlighted by a 10-1 record in 2007.
Prior to his days at North Carolina, Torbush served one season as head coach at Louisiana Tech (1987).
Torbush got his coaching start at Carter High School in Knoxville, in 1974 before joining Baylor's staff as a graduate assistant in 1975.
Torbush received his first full-time coaching position in 1976 at Southeastern Louisiana, where he spent four years as a linebackers and defensive ends coach (1976-79). He also served as the head baseball coach at the school from 1976 to 1979. While at Southeastern Louisiana, his team's won a Gulf South Conference Championship and he was named the league's coach of the year in 1978.
Following a three-year stint at Louisiana Tech (1980-82), Torbush was named the defensive coordinator at Mississippi for four seasons (1983-86). During his final year, the Rebels led the SEC in total defense.
During his playing days at Carson-Newman, Torbush was a letterwinner in both football and baseball, earning NAIA All-American first team honors in both sports. The success of his collegiate playing days has earned him a spot in both the Carson-Newman and Knoxville Sports Halls of Fame.
Prior to starting his football coaching career, Torbush played one year of minor league baseball in the Kansas City Royals organization (1975).
Torbush, a native of East Spencer, N.C., earned his bachelor's degree in physical education from Carson-Newman in 1974. He would go on to earn a master's degree from Baylor in physical education in 1976. He and his wife, Janet, have one son, Trey.