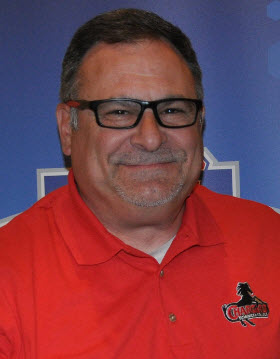 Head Coach
Rick Giannetti
Head Coach Rick Giannetti is entering is 26th year at the helm of the Charger baseball program. In his time at Dominican he has amassed a record of 723-470 and his overall record stands at 769-520. He has guided Dominican to 15 Central Atlantic Collegiate Conference (CACC) Championships, 10 regional tournament appearances, 1 Eastern College Athletic Conference (ECAC) Championship and 2 NAIA World Series Appearances.His teams have qualified for post season play every year except one.
Giannetti spent his collegiate career at Ramapo College of New Jersey where he was a member of the baseball team for four years. As a pitcher, he never lost a game in college and for three of those years had a single digit statistic for walks allowed. The Roadrunners also went to three regional tournaments in his tenure there. He graduated in 1982 with a double major B.S. in psychology and business.
His collegiate coaching career started at his alma mater joining the team as an assistant coach in 1983 and helped guide the Roadrunners to a National Championship in 1984. Giannetti then took over the reigns in 1988 and spent two years as the head coach. In that time, he made two conference tournament appearances, won a conference championship in 1988 and made a regional tournament appearance.
Coach Giannetti has been awarded the CACC Coach of the Year award 9 times in his tenure, Regional Coach of the Year Award 5 times and was the 2009 Eastern College Athletic Conference (ECAC) Coach of the Year. He has also been a finalist for the National Coach of the Year Award 4 times. He has coached 49 All-American players and 119 All-Conference Players and has had 19 players sign professional contracts, with two players) currently in the Chicago Cubs minor league system & one with the Boston Red Sox.
He currently resides in New City, NY with his wife, Vicki, and their three children, A.J., Vincent and Adriana.