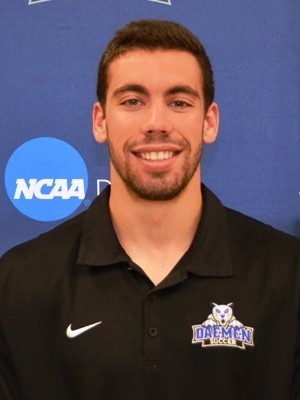 Head Strength and Conditioning Coach
Kyle Clifford
In July of 2015, former two-sport star Kyle Clifford joined the Daemen Athletics staff as the Assistant Athletic Trainer working out of the sports medicine office.
Clifford holds a Bachelor of Science Degree in Health Care Studies, as well as a Master of Science Degree in Athletic Training from Daemen. He completed athletic training clinical education with experiences working for the State University of New York at Buffalo, Sweet Home High School, Western New York Flash (National Women's Soccer League) and D'Youville College, in addition to his clinical experience conducted in Daemen's sports medicine office.
Clifford also holds professional memberships with the National Athletic Trainers Association, Eastern Athletic Trainers Association and New York State Athletic Trainers Association.
During his time as a student, Clifford starred for the Wildcats on the pitch from 2010-13 before joining the men's basketball team for a two-year stint, from 2013-15.
In soccer, Clifford made 57 appearances, including 47 starts, and racked up 30 goals (six game-winners), eight assists and 68 total points, playing for the program through its initial stages of the transition from the NAIA to NCAA Division II. In his sophomore season (2011), Clifford went wild for 16 goals en route to First Team All-American Mideast Conference honors. He would add 10 more tallies as a senior and earned USCAA Second Team All-America honors.
On the hardwood, Clifford helped Daemen to a 42-17 record in his two seasons, making 53 appearances and 10 starts. His finest season came in 2014-15 when he averaged 10.0 points per game and shot 42-percent from three-point range to lead Daemen to the USCAA Division I national championship. He was named to the USCAA Division I National Championships All-Tournament Team after averaging 17.0 points, 5.3 rebounds and 4.0 assists per game in Daemen's three wins there.