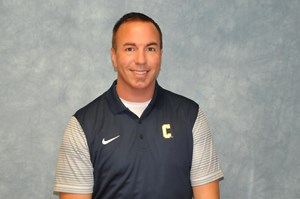 Tim Walsh enters his second season as the head coach of the Coppin State volleyball program in 2018.
Walsh arrived at Coppin shortly before the start of the 2017 season and helped the Eagles to a 4-26 mark in which all four victories came in conference play. Despite the quick turnaround, Walsh tutored five players to Academic All-MEAC accolades and graduating senior Glorines Rosado set school and personal-best marks in digs and service aces.
Walsh came to Coppin State after spending the last two seasons at Marywood University as their women's volleyball head coach. He guided the Pacers to a 25-36 combined record and a 15-7 conference record in two years, including the program's 400th all-time victory in 2015. His 2015 team was one of 141 Division III schools to be named an American Volleyball Coaches' Association (AVCA) Team Academic Award recipient. Walsh and his Pacers reached the CSAC playoffs for two consecutive seasons. The 2016 squad collected 17 wins, the most for Marywood's program since the 2013 season.
Prior to Marywood, Walsh served as the head coach at Francis Scott Key High School in Union Bridge, MD for six seasons. He led the Eagles to the 2A Maryland State Championship in 2009. Walsh led Key to a 66-18 overall record and a .727 winning percentage. The Carroll County Times named him Volleyball Coach of the Year in 2013. He coached two county players of the year in 2009 and 2014. Eight of his players went on to play collegiately and his 2012 team reached the Class 2A West Regional Finals.
Additionally, Walsh was a court director and coach at the Volleyball Factory, Inc. in Columbia, MD. He worked, traveled and trained with former All-Americans and USA National Team Members Cheryl Weaver and Kristee Porter to help student-athletes excel in volleyball. He also was a head volleyball club coach at Carroll Viper Volleyball Club and Maryland Elite Volleyball Academy. Walsh has also helped out the 2014 and 2015 Big South champions and 2016 Sunbelt champions, Coastal Carolina's head volleyball coach Jozsef Forman with his summer volleyball camps.
Walsh taught special education and American sign language at Key from 2007-14.
Walsh is a member of the AVCA. He was a two year captain and starter in the Empire State Games, Hudson Valley Region Men's Volleyball Team and played in various clubs and leagues during and after his stent at Towson University. He was a four-year Division I, cross country and track and field letter winner and captain for the Tigers.
Walsh received his Bachelor of Science in Deaf Studies with Cum Laude distinction from Towson in 2004. He earned his Master of Science Degree in Deaf Education (2006) and his Education Administrator I Certificate (2012) from McDaniel College. He currently resides in Scranton, PA with his wife Shannon and baby daughter, Ayla Jeanne.