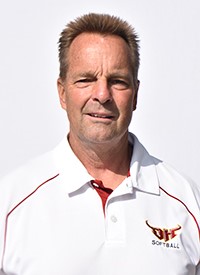 Jim Maier, the winningest coach in the Cal State Dominguez Hills softball program, returned to the helm for a second stint in October of 2018. He has a 588-363-2 overall record as a collegiate head coach.
Maier comes back after spending four seasons (2015-18) at Cal State San Bernardino, where he compiled a 128-90 record. The Coyotes had two CCAA Tournament and NCAA playoff berths during his tenure. He coached one All-American, four All-West Region and 14 All-CCAA honorees.
Maier was previously the CSUDH head coach for 13 years from 2001-13. He collected two CCAA titles, seven NCAA playoff appearances and sported an overall record of 460-273-2. During his first stint he coached five All-Americans, two CCAA MVP, 22 All-West Region and 62 All-CCAA selections.
Maier got the job at CSUDH in 2001 and turned things around quickly. He guided the team to 36 wins in his first year, matching the previous record for wins in a season. Two years later, in 2003, the Toros made their first of four consecutive NCAA playoff appearances and collected back-to-back 46-win campaigns in 2005-06. Maier was named the conference's Coach of the Year as CSUDH won the CCAA title in 2005. Additionally, Cindy Perry-Brown was named the CCAA MVP and to the All-America team that year. The Toros made it to the NCAA West Region Finals in 2006, their deepest postseason run at the time.
CSUDH returned to the NCAA playoffs in 2008, after a sub-par performance the year before, and made it all the way to the regional semifinals. The Toros saw four consecutive CCAA Tournament appearances from 2010-13 and made it to the NCAA West Super Regionals in the last two of those seasons. CSUDH was crowned CCAA regular season co-champions during the 2012 campaign. In his final four years in his first stint, Maier coached three All-Americans in Emily McEwen (2010), Stephanie Jimenez (2013) and Adriana Sanchez (2013).
Maier coached at St. Paul HS in Santa Fe Springs on two different occasions. He served his first stint from 1987-2000, and his second in 2014 between his appointments at CSUDH and CSUSB. He guided the Swordsmen to the 1988 CIF-Southern Section Division 4A and 2014 CIF-Southern Section Division III titles and compiled a 328-81-1 record in his 15-year tenure. He coached 25 players who earned college scholarships, including nine at the NCAA Division I level.
A graduated from Cal State Fullerton with a bachelor's degree in sociology in 1987 and earned his master's degree in athletic administration from Azusa Pacific in 1995, Maier and his wife, Lori, reside in La Habra and are the parents of three sons: Jake, Jared and Kyle. Jake is currently a quarterback at UC Davis.