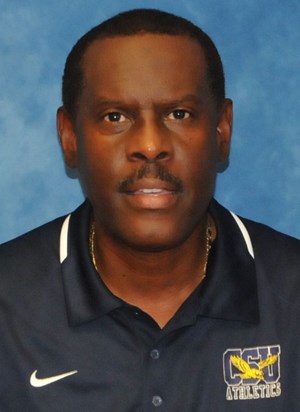 Sherman Reed, the 2018 MEAC Coach of the Year and winningest skipper in school-history, enters his ninth season as the head coach of the Coppin State baseball program in 2019 after previously spending two seasons as an assistant.
During his first three seasons at the helm, Reed worked tirelessly on the recruiting trail to help turn the Coppin State baseball program around. The 2012 edition of the Eagles featured 20 freshmen and sophomores laying the foundation for success in the coming years. The fruits of his labor really paid off in the 2018 season when the Eagles won their first MEAC Northern Division Title since 1996 with an 18-4 record in conference play, shattering the old single-season wins record by five games. Finishing with a school-record 21 victories, Coppin earned the top overall seed in the MEAC Tournament and earned a win over Florida A&M before falling in an extra-inning affair in the Semifinals.
The 2018 season also showed dividends for several individuals with the Navy & Gold. Derek Lohr and Nazier McIlwain both earned First Team All-Conference honors with Lohr being named a Freshman All-American. Four others (Erik Crossman, Caleb Duhay, Allen Saar and Jahmon Taylor) earned Second Team recognition as the six All-Conference selections was also a program-record. Elsewhere, Marcos Castillo and Corey Treyes took home All-Black College Nines accolades.
In the final regular season game of the 2018 campaign at UMBC on May 9, one that seemed to reflect the fight and effort put forth by the Eagles all year, Coppin came from behind to defeat the Retrievers, 13-11. In doing so, Reed won his 84th career game at Coppin, breaking Jason Booker's old mark which stood for 21 years.
Coppin has qualified for the MEAC Championship six out of the past eight years with a total of six tournament game wins. Coppin State was a semi-finalist in the 2013 Tournament after beating Bethune-Cookman and NC A&T. They came close to duplicating that feat in 2016 before losing a 12th inning hardly fought contest to Norfolk State 7-6. Under Reed, the 2013 Eagles had the nation's highest win turnaround percentage while winning 18 games.
Reed became Coppin's second-winningest coach in school history after the 9-5 victory over NC A&T on February 18, 2018, and just completed his fourth year serving as President of the MEAC Baseball Coaches Association. Reed is also finished his third year serving on the NCAA Division I Baseball Regional Advisory Committee for the Atlantic Region.
Reed was an assistant coach at Coppin State in 2008 under former head coach Harvey Lee and in 2009 working with Mike Scolinos.
"This is like coming home for me," said Reed. "I was raised in west Baltimore, I went to public schools here and I have family members that graduated from Coppin State.
"I recognize that there are only 301 Division I coaching jobs and am very honored that the University believes than I am the right person to turn the program around."
Reed was inducted into the Oldtimers Baseball Association of Maryland Hall of Fame in October 2013.
Reed played collegiately at Towson State under former Baltimore Orioles and Texas Rangers manager Billy Hunter. He then spent 10 seasons playing independent baseball prior to beginning his coaching career.
The Baltimore native has coached at various levels, including Western Tech and Catonsville High Schools, pony league and Cal Ripken collegiate baseball.
Additionally, he was the director of the Yankee Rebels Baseball Club from 2005-10 which is one of the oldest amateur baseball club in Maryland and was the coordinator of the Urban Baseball Camp for the Kansas City Royals in 2008-09.
He graduated from Towson in 1983 with a degree in instructional technology and later earned his M.B.A. from Johns Hopkins in 1999.
Reed and his wife Dorothy have three children, Tynetta, Candice and Sherman, Jr. and reside in Catonsville.