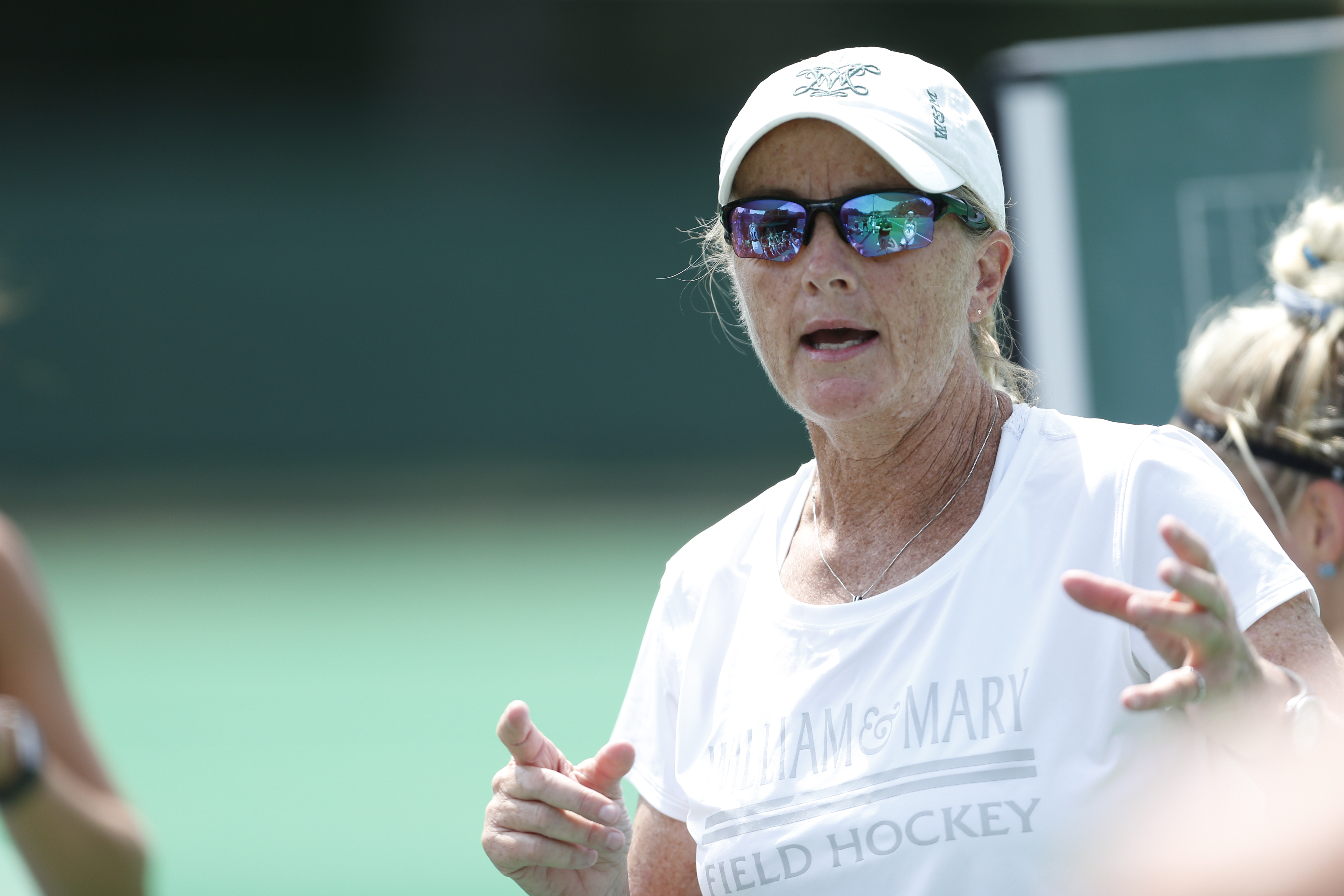 After her first five years as William & Mary's head field hockey coach, Tess Ellis has led the Tribe to a renaissance. She is beginning her 23rd season at W&M in three stints since 1993, most recently rejoining the Tribe as an assistant coach in 2010 and being promoted to Associate Head Coach in May of 2011. Ellis was promoted to head coach just prior to the 2013 season, and has a five-year record of 44-52 (.458) and 17-13 (.567) in the CAA.
In 2017, Ellis was named the National Coach of the Year by SynapseSports.com after guiding W&M toa 13-7 record and a No. 19 national ranking. The Tribe had a 3.5 game turnaround from 2016, sixth-best in the NCAA that season, and tied for second-best in school history behind only the 1986 team and matching the 1995 team. After opening the year 5-1, including a 1-0 road upset of No. 7 Michigan, W&M moved into the national rankings, and would stay there for the next nine polls, the longest ranked period for the Tribe since 2001, and the first time since 2004 appearing in the season's final national poll. W&M would go on to finish 13-7, the most wins since that 2004 season, and reached the CAA Championship game for the first time since 2002 and just the third time ever.
In her first two years, Ellis was named CAA Coach of the Year each season, becoming just the third coach in league history to earn the award more than once alongside former Tribe mentor Peel Hawthorne and nine-time NCAA Champion coach Beth Anders. Along with Anders, Ellis was the second coach in CAA history to win the award back-to-back seasons. W&M has been successful in the classroom as well, earning a pair of NCAA Public Recognition Awards, and achieving a 100% Federal and NCAA graduation rate in both 2015-16 and 2016-17. As a whole, W&M has earned the NFHCA Team Academic Award every year, and individually, Taylor Hodge '14 was named the CAA Scholar-Athlete of the Year in 2013 and both Hodge and Olivia Hajek '17 were elected to Phi Beta Kappa.
The individual playing honors have also accumulated at an ever-increasing rate. Erin Menges '18 was named CAA Defensive Player of the Year in both 2016 and 2017, becoming just the second player in league history to win that award multiple times. She ranked top-10 in the NCAA with five defensive saves as a junior in 2016, improving to third in the nation with six defensive saves as a senior. Menges was also named to the Team USA National Developmental Squad in the summer of 2017, the first national team bid for W&M since 2012 and just the third ever. Menges finished her career as the first W&M player ever to be named to all four CAA league teams, earning all-rookie honors in 2014, second-team in 2016, first-team in 2017, and all-tournament team mention in both 2016 and 2017. The recruiting class of 2016, just two years into their careers, have also set new standards for achievement, with Christie van de Kamp '20 being named to the 2017-18 Team USA U21 team and Annie Snead '20 was named alternate to the same squad. MaxFieldHockey.com had rated that whole seven-player recruiting class as one of the six-best in the nation. In all, Tribe players over the last five years have earned nine first-team All-CAA, eight second-team, eight all-rookie, and nine CAA All-Tournament team honors, as well as eight all-region nods from the NFHCA.
Ellis previously served at W&M for eight years as first assistant from 1993-2000, and another six years as volunteer assistant coach from 2003-08. From 2000-2003, Ellis served as the head coach of the U.S. Field Hockey Association's Under-21 and Under-23 National teams, as well as coaching the U.S. in the 2001 Junior World Cup and as an assistant coach with the National Senior team. During her time with the national Olympic program, Tess helped Head Coach Tracey Belbin develop the first Olympic residency program in Virginia Beach. Her duties with the program included daily training programs for both field players and goalies, and she had the privilege to train legendary U.S. keepers Peggy Storrar and Amy Tran.
An internationally experienced player, coach, and clinician, Ellis has been afforded many opportunities to travel the globe through her work in advancing the sport of field hockey. Other accomplishments over the years include training and traveling with the U.S. Olympic Team in the run up to the 1996 Atlanta Olympics, as well as coaching many junior travel teams. Tess has also served in a coaching and directors role for many U.S. development camps and in the USFHA Futures program.
Ellis was also a member of the Australian National Indoor team for eight years, and was on the Australia National Under-21 squad. She represented her state of New South Wales for 11 years in both indoor and outdoor field hockey. In 1993, Ellis founded the Williamsburg-based Colonial Field Hockey Club.