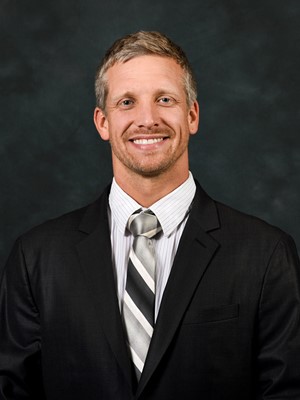 Matt Karweck accepted the reins as the Colgate men's lacrosse head coach in July 2018.
Karweck arrived after eight years as an assistant coach in the Division I ranks, including the previous six seasons at Notre Dame.
Colgate Vice President and Director of Athletics Dr. Nicki Moore made the official introduction during a press conference at the Class of 1965 Arena.
"We are so proud to be bring Matt Karweck and his family into our Colgate family," Moore said. "The things we heard from our references about Matt that impressed us were things like:
'He's one of the most growth-minded coaches I know;
'He has made it his work to understand new generations of student-athletes and how they are best coached, mentored and led;
'He is a positive coach who values the teaching and learning process and understands the important role that making and learning from mistakes are in that process;
'He is driven to be great.'
"We could not be more excited to welcome our newest head coach back to Central New York."
Karweck, who also played his collegiate lacrosse at Notre Dame, helped the Fighting Irish to their second Atlantic Coast Conference title this past year in a 17-7 championship-game triumph at Virginia. The Irish were matched only by Syracuse in ACC tournament success since Notre Dame joined the league, as both teams now have two championships in the five-year span.
The Irish reached three finals in five appearances.
During his six seasons back at Notre Dame, the Fighting Irish compiled a 64-30 record, earned six NCAA tournament bids, including a title-game appearance in 2014, captured the 2014 and 2018 Atlantic Coast Conference championships, and reclaimed the regular season ACC title in 2015 and 2016.
The Irish reached at least the NCAA quarterfinals in five of the six seasons Karweck served under head coach Kevin Corrigan.
"You know this is a special place when you walk in the door and you are immediately welcomed," Karweck said. "Community is so important for my wife, my son and me, and this place is incredible.
"My mentors, Kevin Corrigan and Gerry Byrne at Notre Dame, have taught me over the last six years many things, but certainly about the relationships with the student-athletes that you have to have. We have an amazing group of young men here and you can tell the guys are really excited to push this program to be great."
Over the past six years, the Notre Dame program produced 27 All-America honorees and 25 All-ACC selections. The Fighting Irish also had 10 players drafted into Major League Lacrosse.
Karweck came to Notre Dame from Merrimack, where he spent one season as an assistant coach/offensive coordinator at the NCAA Division II school. The Warriors posted a 13-3 record in 2012 and reached the title game of the Northeast-10 Conference tournament. They also were ranked fifth nationally during the season and produced three All-Americans, including the player of the year.
Prior to his stint at Merrimack, Karweck was an assistant coach at the Detroit-Mercy for one season. He was the offensive coordinator for the Titans during the 2011 campaign and helped the second-year program improve by three wins from its first season of NCAA Division I play to its second. Detroit also earned its initial berth into the MAAC tournament and advanced to the title game.
Karweck was the head coach of Indiana University's club lacrosse program from 2007-10. The squad competed in the Men's Collegiate Lacrosse Association (MCLA).
He led Indiana to 25 wins in three seasons and was named the 2009 Great Rivers Lacrosse Conference Coach of the Year. While at Indiana, he earned a Master of Science degree in kinesiology and owned and ran Overtime Lacrosse, a summer camp program.
Karweck earned four letters (2003-06) and tallied 60 goals and 30 assists in 52 games during his playing career at Notre Dame. He received first team all-Great Western Lacrosse League honors as a senior after copping second-team accolades during his junior campaign. He graduated with a degree in psychology from Notre Dame's College of Arts and Letters.
After graduating from Notre Dame, Karweck competed professionally in England for one season with the Sheffield Steelers in the English Lacrosse Premiership. The Steelers captured the 2006 Bath Eights Tournament Championship. While in England, he also served as a men's lacrosse coach at Sheffield University, and taught lacrosse in the surrounding area for the English Lacrosse Association.
He returned to the United States and played two seasons for the Chicago Machine in Major League Lacrosse.
"I'm so excited to get back to upstate New York; it's where I'm from," said Karweck, who is a native of Penn Yan in the Finger Lakes Region and attended Penn Yan Academy. He led the team to the Section V Class C High School title all four seasons, as well as the state title in 2001.