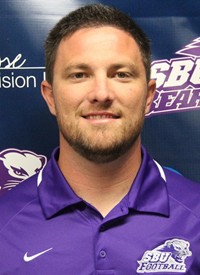 Robert Clardy will be entering his fourth season (2018-19) as the Head Football Coach and his 12th season overall on the Bearcats Football coaching staff.
In 2016, Coach Clardy earned GLVC Coach of the Year honors after leading the Bearcats to their first ever conference title and NCAA National Playoff appearance after finishing the season 10-2 (7-1 GLVC). Clardy's Bearcats were ranked as high as 17th in the NCAA Division II AFCA poll, finishing 22nd in the final NCAA Division II AFCA poll, while earning their first ever regional and national rankings. SBU broke 13 team records and 15 individual records, including most wins and conference wins in a single season, while also recording a record 19 All-GLVC and 10 All-Region honorees. The Bearcats had 3 All-American's and finished with the 10th best total offense in the NCAA Division II.
In 2015, Clardy led the Bearcats to a 4-6 record (3-5 GLVC) which was good for a 7th place finish in the conference. He guided 14 players to All-GLVC awards including two 1st teamers in Antion McBee and Bubba Jenkins. He also helped QB Trent Edwards earn the GLVC Freshman of the Year award. In addition, McBee was also named a D2CCA and D2Football.com 2nd Team All-American at defensive back. As a team, SBU was second in the GLVC in scoring offense and third in total offense under Clardy's leadership.
In 2014, Clardy coached his first All-American athlete at the wide receiver position in Nathan Mourik. Mourik had a record-setting year, claiming the GLVC single-season record for receiving yards, and also numerous SBU single-season records. Since taking over the wide receivers coaching position, Clardyhas had four different receivers earn All-MIAA or All-GLVC honors.
In 2013, Clardy was promoted to Assistant Head Coach/ Wide Receivers coach and helped lead Derwyn Lauderdale to an 1000+ yard receiving season. From 2011-2012, Clardy was the Offensive Coordinator/ Quarterbacks coach at SBU producing two all-MIAA players and one Division II Senior Bowl selection. As the Quarterbacks coach from 2008-10, Robert assisted in producing one of the most prolific offenses in Division II football. SBU's offense broke several NCAA records while Clardy was coaching quarterback Steve Gachette. Gachette rewrote the SBU record books while breaking four Division II records and finishing his career 7th all-time among all NCAA divisions in total offense with 15,235 yards.
In 2008, Clardy graduated from Southwest Baptist with a Bachelor of Science degree in Recreation. During his time as a student he played quarterback for the Bearcats football team. He led the team in total passing and offensive yards for three consecutive seasons and led the team in rushing and scoring for two. He ranks in the Top 3 for total offensive yards and pass completion percentage and holds the school's career record for pass completion percentage.Clardy finished his career ranked 7th all-time in the MIAA conference in total offense.
Robert Clardy currently resides in Bolivar, Missouri with his wife Krysten (a 2009 SBU graduate and All-MIAA soccer player for the Bearcats), their two daughters, Addyson and Brooklynn, and son Lawson.