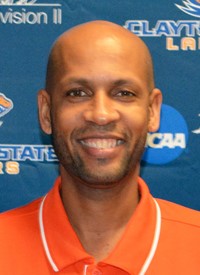 Head Coach
Le'Trone Mason
Clayton State women's head coach Le'Trone Mason enters his fourth season at the helm of the program and has led the Lakers to two NCAA Division II National Championships appearances, including a berth in the NCAA Division II Final Four in 2011.
With more than 10 years of collegiate coaching experience at the collegiate level, ranging from junior college to the Division I level, his experience was evident from the beginning, and he made an immediate impact.
In his first season, Mason paced Clayton State to its best season in program history. The Lakers finished 18-8 overall and advanced to the NCAA Division II "Final Four" for the first time in program history. Mason produced two ITA Division II All-Americans and Clayton State finished its season with highest ever Division II national ranking - seventh in the nation.
In 2012, despite being ravaged by injuries to key players, Mason had the Lakers ranked in the Division II Top 15 for much of the season. The Lakers were slowed by injury yet again in 2013, but the squad battled through the adversity, advancing to the NCAA Division II Championships for the 10th time in program history. The Lakers finished the season ranked eighth in the NCAA Division II Southeast Region and among the top teams in the country.
A standout player at Division I Florida A&M, Mason was a two-time All-Mid-Eastern Athletic Conference selection for the Rattlers. He was the team's No. 1 player in both singles and doubles during his junior season. Following his playing career, Mason served two separate stints as a men's assistant coach at Florida A&M from 1997 to 1999 and from 2000 to 2003 under veteran head coach Dr. Carl Goodman.
During his second stint as an assistant at Florida A&M, the Rattlers finished as MEAC runners-up for three straight seasons.
Mason had arguably his best coaching success as the women's head coach at Broward Community College in Davie, Fla., from 2004 to 2007. His 2005 squad at Broward finished third in the nation at the NJCAA level, and his 2006 team won the NJCAA National Championship.
While at Broward, Mason coached seven first team NJCAA All-Americans and two second team All-Americans in singles, plus three first team doubles All-Americans and one second team selection. In addition, he coached one NJCAA "Freshman of the Year" and one NJCAA "Player of the Year."
In addition to his success at Broward, Mason also served one season at Division I Chicago State as the men's and women's teams head coach, where his Cougar women's team won the 2009 National Independent Tennis Championship.
Earning his USPTA (United States Professional Tennis Association) teaching certification in 2000, Mason has served as Tennis Professional at numerous tennis centers and academies. He was the Tennis Professional at the Tennis Center of Coral Springs in Coral Springs, Fla., from 2003 to 2008, and currently serves as the Tennis Professional at the Tennis in Motion Academy in College Park, Ga.
During the 2010 season, he served as the interim women's head tennis coach at neighboring Division II Clark Atlanta.
Mason earned his Bachelor of Science degree in Computer Information Systems from Florida A&M in 2002. He and his wife Taneka have two daughters - Azjhani and Malia.