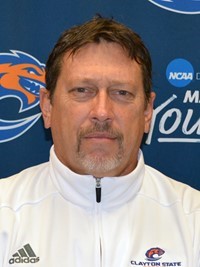 Head Men's Soccer Coach
Pete Petersen
Clayton State's all-time winningest coach Harry Frederick "Pete" Petersen enters his 11th season as the head coach of the Laker men's soccer program. In 2012, Petersen captured his 100th win on the Laker sidelines and enters the 2014 season with a 115-57-18 record, which ranks among the best in NCAA Division II.
A national championship winning head coach, Petersen took over the Laker program from another national championship winning coach in the spring of 2004, as he became the program's fifth coach replacing John Rootes.
All Petersen has done is keep Clayton State at the top of the Peach Belt Conference (PBC), and, in the process, turn the Lakers into a force to reckoned with on the national NCAA Division II scene.
His 2010 season was arguably the best in the history of Clayton State men's soccer as Petersen paced the Lakers to a program-best 19-4 mark, which included a share of the Peach Belt Conference regular season championship and an NCAA Division II National Tournament berth. In fact, Clayton State advanced to the NCAA Division II "Elite Eight" for the first time in program history.
The Lakers were ranked as high as fourth in the nation - the highest national ranking ever during a season for a Clayton State men's soccer team - and finished ranked fifth in the final NSCAA Division II Top 25.
In his 10 seasons, Petersen has paced Clayton State to four Peach Belt Conference regular season championships (2005, 2006, 2007, 2010), two PBC Tournament championships (2005, 2007) and four NCAA Division II National Tournament berths (2004, 2005, 2007, 2010). In addition the Lakers advanced to the "Sweet 16" of the NCAA Division II National Tournament in both 2004 and 2005 to go along with the 2010 season's "Elite Eight" berth.
Consistently ranked in the Division II Top 25 in Petersen's tenure, Clayton State finished 15th in the nation in 2004, 12th in 2005, 22nd in 2007 season, in addition to fifth in the nation in 2010. On top of being ranked as high as fourth in 2010, Petersen's 2005 Laker squad was ranked as high as sixth in the nation, while the 2007 team was ranked as high as fifth nationally in Division II.
Overall, Peterson is 115-57-18 at Clayton State, giving him the most victories of any head coach in Laker men's soccer history. That includes a 46-20-11 mark in Peach Belt Conference play and 86-31-9 in NCAA Division II Region play.
Petersen has produced eight All-Americans, 30 All-Region selections and 38 All-Peach Belt Conference players. On top of that, Clayton State has had four Peach Belt Conference Freshman of the Year receipients, four PBC Top Scorers and three PBC Player of the Year honorees under Petersen.
Petersen himself has also been recognized by the Peach Belt, winning conference Coach of the Year honors in 2005, 2007 and 2010. In addition, Petersen was also honored as the NSCAA Division II Southeast Region Coach of the Year in 2010.
Prior to arriving at Clayton State for the 2004 season, Petersen most recently served as the Academy Director for the Norcross (GA) Soccer Association, overseeing approximately 1,400 players. Before his three years at Norcross, he served for seven years in the professional ranks, working as a general manager, head coach and president of four professional soccer teams (South Carolina Shamrocks, Jacksonville Cyclones, Raleigh Express and Atlanta Silverbacks). He had a combined record of 46-44-1 in the United Soccer Leagues.
Petersen was president of the Atlanta Silverbacks of the A-League from 2000-01 and helped lead the franchise to the playoffs, its first appearance in six years. The franchise also received the 2001 Most Improved Club Peer-Rating award and excelled in developing community programs such as a Hispanic Outreach, Super Y Youth teams and local professional camps.
At the club level, Petersen has been involved wth local Atlanta-area clubs like Norcross, GSA, Concorde Fire, and SSA.
In addition to his tenure at Clayton State, he was also head coach at Spartanburg Methodist College where he compiled an impressive 79-28-6 mark in six seasons. Petersen's pinnacle season came in 1994, leading the Spartanburg Methodist squad to the National Junior College Athletic Association (NJCAA) National Championship. He was also named the National Soccer Coaches Association of America (NSCAA) Coach of the Year that same season.
In addition to his time at Clayton State and Spartanburg Methodist, Petersen was an assistant for one season at NCAA Division I Davidson and one season at his Alma Mater, Presbyterian.