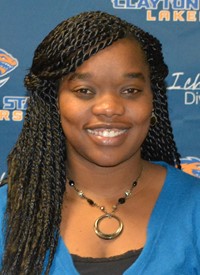 Head Women's Basketball Coach
Kaleena Coleman
Named the seventh head coach in program history on March 9, 2015, Coleman has been a fixture in Laker women's basketball for the past 13 years, as both a player and a coach, and has been a part of the most successful period in the program's history.
CLAYTON STATE HEAD COACH (2014-PRESENT)
In her second season at the helm, Coleman returned the Lakers to the NCAA Division II Tournament for the 11th time in 12 years with an overall record of 22-7 and an impressive 15-4 mark in the highly competitive Peach Belt Conference. It was also the 11th season with at least 20 wins for the program.
During the 2015-16 season, Clayton State was either ranked or received votes in the D2SIDA and USA Today Sports Coaches Poll a total of 18 times. That included high water marks of No. 12 in D2SIDA and No. 19 in USA Today as they won 13 straight games from November 28 through January 24. The Lakers also knocked off No. 15 Francis Marion (D2SIDA) by a score of 73-61 on December 19, 2015.
Additionally, the program earned a record-tying three All-Peach Belt Conference selections, including Second-Team choice DaQuenna Moore. Andrea Benford and Kenisha Jones-Barrett were both named to the Third-Team, with Benford becoming the first Laker to earn two All-Conference selections in non-consecutive years.
Taking over for the legendary Dennis Cox in late July of 2014, Coleman inherited a roster with only eight returning players. She led that team to a 17-12 overall record, nearly knocked off some of the nation's best programs and earned the No. 3 seed out of the Peach Belt Conference's highly competitive West Division.
She accomplished that while battling through a number of injuries to key players all season long, sometimes to the point she had only eight available on gameday, and developing a rapport with a largely new roster, as well as her coaching staff, in an extremely short amount of time. Her vast experience within the program helped her to overcome that adversity and achieve great things.
"We are proud to have Kaleena become the seventh head coach in the history of Laker women's basketball," said Director of Athletics Tim Duncan at the time of her fulltime appointment. "Under her leadership, we fully expect to be back at the top of the Peach Belt Conference standings and in the national spotlight in the near future."
Coleman is currently the only former women's basketball player to lead her alma mater as head coach of the program.
COLLEGIATE PLAYING CAREER: DARTON (2001-03) AND CLAYTON STATE (2004-05)
After two years at Darton College, where she was named the team's Most Improved Player, she came to Clayton State and was a two-year member of the women's basketball team from 2003-05.
During that time, she played in 56 games, and was part of the 2004-05 team that went a program record 25-7. That squad also earned the Lakers their first ever NCAA Division II Tournament berth, the first Peach Belt Conference Regular Season and Tournament Championships and delivered the second biggest turnaround in DII, improving from just 10-18 the year before.
CLAYTON STATE ASSISTANT COACH (2005-14)
Following her playing career, Coleman joined the staff of head coach Dennis Cox in 2005-06, becoming a full-time member in the 2007-08 season. She served in that role through the 2013-14 campaign before being named the interim head coach on July 29, 2014.
During her 13 total years in Morrow, Georgia, she has helped guide the Lakers to 10 consecutive NCAA Tournament appearances (2004-14) and 11 overall, four South Atlantic/Southeast Region titles with matching trips to the Elite 8 (2007, 2009, 2011, 2013) and the 2011 NCAA Division II National Championship. That stretch has also included 17 NCAA Tournament victories, seven PBC regular season titles (2005, 2007, 2008, 2011-14) and three tournament championships (2005, 2007, 2010).
EDUCATION
A graduate of Clayton State University, Coleman holds a Bachelors in Education earned in 2006.