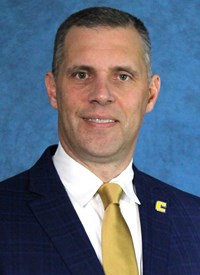 A 22-year veteran of the collegiate coaching ranks, Wright is a 1996 graduate of UTC with a degree in Sports Administration. He was a four-year letter winner for the Mocs football team and had two stints as an assistant coach at UTC.
"I am extremely excited to announce Rusty Wright as the next head coach of Chattanooga Football," stated UTC Director of Athletics Mark Wharton. "Once again, our program, University and community attracted an outstanding candidate pool."
"Rusty's experience and success at the FCS level made him a logical candidate for our job. It was his vision, passion and commitment to UTC that convinced us that he was the perfect fit for the long-term success of Chattanooga Football. I can't wait to get started working with him to bring championships back to Chattanooga."
"I can't tell you how excited I am to come back to Chattanooga," stated Wright. "It is my alma mater, it is my home and it is a place I care deeply about. I am very honored for the chance to lead our football program and I would like to thank Mark Warton, Dr. Steve Angle and everyone else involved for this opportunity.
"There is a solid foundation for success with some great student-athletes in our program. I want to build on that in a way that continues to instill pride in our student-athletes, our University, alumni and community. More importantly, want to do it for the long haul."
Wright spent the last two seasons on Shawn Elliot's staff at Georgia State where he coached the inside linebackers, special teams and served as the Panthers' recruiting coordinator. They guided the Georgia State to the 2017 AutoNation Cure Bowl Championship.
In his first year with the Panthers, the 2017 GSU defense set season records for fewest points per game (24.75), fewest rushing yards per game (136.4), fewest yards per rushing attempt (4.13) and most sacks (24).
Prior to that, Wright was a member of Russ Huesman's staff at UTC during one of the most successful runs in school history. He was the linebackers coach and special teams coordinator for four seasons (2013-16). UTC won three-straight Southern Conference titles and made three consecutive FCS Playoff appearances during his time in the Scenic City.
Included in those playoff berths was a trip to the quarterfinals berth in 2014. There were also four consecutive seasons of eight or more wins.
In 2016, Wright coached All-America linebacker Nakevion Leslie. During his tenure at UTC, five linebackers earned first-team all-conference honors, while punt returner Tommy Hudson, tutored by Wright in 2014, earned All-America recognition.
Before returning to UTC, Wright worked two years helping build a new program at NAIA-member Reinhardt University in Waleska, Ga., where he was the defensive coordinator.
Wright served four years (2005-08) as an assistant at Miami (Ohio). In 2007, the Miami defense led the Mid-American Conference in rushing defense, total defense, scoring defense and quarterback sacks. The Red Hawks won MAC East titles in 2005 and 2007.
In 2004, Wright served as the defensive coordinator at Butler. He also spent one season coaching defensive line at Gardner-Webb (2009), and one year as the linebackers coach at Furman (2010).
Wright was a four-year letterman at Chattanooga from 1992-95. He caught more than 50 passes as a tight end in his career, playing on offensive units that included future NFL players Terrell Owens, Jerry Ellison and Marrio Grier.
He began his coaching career on the Mocs staff, serving seven seasons (1996-02) in various roles, coaching the linebackers, tackles, tight ends, special teams and the junior varsity squad.
The native of Petticoat Junction, S.C., Wright is married to the former Kelley Black, who was a volleyball letter winner at UTC. The couple has one daughter, Madison, a basketball player at Belmont.