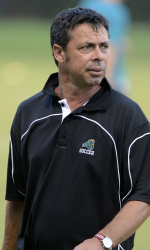 22nd season overall | 20th season at Coastal Carolina
286-138-37 (.662) overall | 266-119-35 (.676) at Coastal Carolina
The 2017 season marked Shaun Docking's 20th as the head coach of the Coastal Carolina University's men's soccer program. In his tenure, he has guided the Chanticleers to a 266-119-35 (.676) overall record.
In 2017 CCU won its second straight Sun Belt regular season and tournament championship and moved on to the NCAA Championship.
The Chants made a solid run winning its first two NCAA Championship matches, including a road-upset win at #8 Clemson 3-1.
The veteran coach led CCU to its 5th Sweet 16 game in program history, before falling at eventual national champion Stanford. CCU finished the season ranked as high as 9 in TopDrawerSoccer National Poll. Before CCU moved to the Sun Belt Conference, he led Coastal Carolina to nine Big South Regular Season Championships, seven Big South Tournament Championships and 11 trips to the NCAA Tournament. Overall, he has posted a 272-131-36 (.646) record in 20 seasons as a head coach and earned seven Big South Coach of the Year awards.
In addition to his seven Big South Coach of the Year honors at Coastal Carolina, Docking has coached eight NSCAA Division I All-Americans, 38 NCAA All-Region performers, a NSCAA Scholar-Athlete of the Year selection, four NSCAA Scholar All-Americans, 92 All-Conference selections, 49 All-Tournament selections, 13 Big South Players of the Year, three Freshman of the Year, seven Big South Tournament MVP's, three BSC Scholar-Athletes of the Year, four MAC Hermann Trophy Semifinalist, one Senior CLASS Award finalist and one Howard Bagwell Award winner.
24 of Docking's former CCU players have entered the professional soccer ranks.
Docking is a 1988 graduate from the University of Akron with a bachelor's degree in physical education. While playing for the Zips, he helped Akron to a No. 3 national ranking in 1987 and a NCAA Division I second-place finish in the 1986 National Championships.
Following his collegiate career, Docking played four seasons with the USISL's Richmond Kickers from 1992-1995. As an assistant coach, he helped the Kickers win the 1995 USISL National Championship and the 1995 Open Cup National Championship.
In addition to his professional and collegiate coaching experience, Docking is also active in the Olympic Development Program. He served as South Carolina's Director of Coaching from 1996-1999 and as a Region I and Region III ODP Staff Coach. Docking has also served as a State Coach in South Carolina, Ohio and Virginia. He holds the USSF A License, a NSCAA Advanced National diploma and is active in teaching the USSF and NSCAA State Licensing courses in South Carolina.
Docking was also head coach of the U.S. Youth Soccer Association Olympic Development Program's Region III boy's soccer program. He also serves on two important committees: The Missouri Athletic Club's Hermann Trophy Award Committee, which selects collegiate soccer's National Player of the Year, and the NSCAA National Ranking Committee.