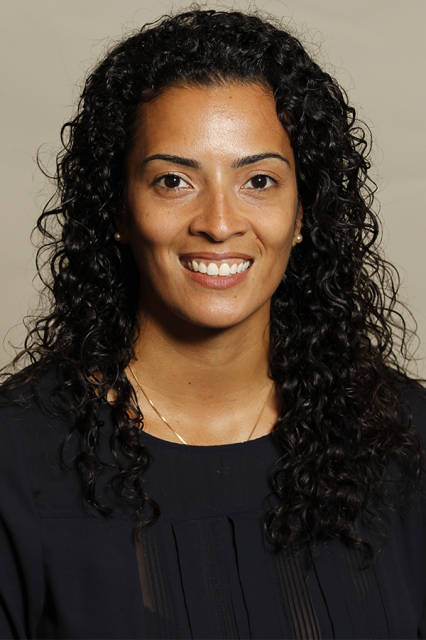 Head Coach
Lenika Vazquez
Lenika Vazquez was named the 11th head coach in Canisius volleyball program history, after serving four seasons at Butler. As a member of the Bulldogs staff, Vazquez helped her squad to 73 wins, highlighted by back-to-back 20-win campaigns in 2013 and 2014.
Butler also earned a berth into the Atlatnic 10 Conference Tournament in 2013, followed by a trip to the Big East semifinal round in 2014 after the team went 20-10 overall and 12-6 in league play. In her time on staff, six players earned all-league honors, and setter MaKayla Ferguson was named the Big East Freshman of the Year in 2014.
The Buffalo, N.Y. native coached at South Suburban College in Illinois before taking over as an assistant coach at Butler in the winter of 2012. She has over 10 years of high school and collegiate volleyball coaching experience.
Vazquez was named head coach at SSC in South Holland, Ill., in the fall of 2010. At South Suburban, Vazquez was charged with recruiting and developing players. Vazquez also co-founded Illiana Explosive Volleyball Club in Crete, Ill., a south suburb of Chicago. In addition to coaching in the Chicago area, Vazquez work as a Personal Training Director at an LA Fitness in Oakbrook, Ill.
Prior to her time at South Suburban, Vazquez was the head coach at Chicago State University for three seasons. While at CSU, Vazquez proved to be a talented and relentless recruiter and coach. She had three players break school records for kills, blocks, assists and digs and had several players earn various academic honors.
After coaching two season as a head coach at the high school level in Illinois, Vazquez began her coaching career in 2002 as an assistant coach at her alma mater, Southern Illinois. While at SIU, Vazquez was involved with recruiting, travel, training, game management and community service projects. In her first season at SIU, she helped the Salukis to a 23-10 season and a first-ever appearance in the Missouri Valley Conference final.
As a player, Vazquez was a defensive specialist at SIU from 1996-99. She was an integral part of Southern Illinois' 1998 squad that went 19-12 and 12-6 in the MVC. She played in college for Sonya (Locke) Hopkins, who is coordinator of academic support for Butler.
A native of Buffalo, N.Y., Vazquez earned a degree in business management from Southern Illinois in 2001.