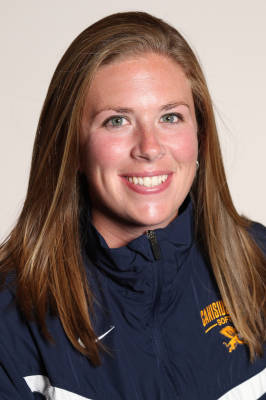 Kim Griffin was formally named the second head coach in the history of the Canisius softball program on Sept. 29, 2014. She took over for Mike Rappl, who served as the Golden Griffins' head coach for 36 years before announcing his retirement July 28, 2014.
In her first season at the helm of the softball program, Griffin earned MAAC Coach of the Year honors after helping lead the Blue and Gold to a 26-19 overall record and a 15-5 mark in league play. The 15 wins in MAAC play helped lead the Griffs to the program's 14th MAAC regular-season crown, and it was the first since 2010. Griffin's first team led the league in three different offensive categories, including triples per game, where Canisius ended the season as the nation's leader in three-base hits per contest.
The 2007 graduate of Mercyhurst College, Griffin served as an assistant coach on Rappl's coaching staff for seven seasons, starting in 2008 when she joined the program as a volunteer assistant coach. In her first year with the Griffs, she was a part of the coaching staff that helped guide the Blue and Gold to a school-record 39 wins, a MAAC Tournament championship and a berth into the NCAA Division I Softball Tournament. In 2014, she took over as the team's pitching coach, where she oversaw the development of former Griff hurler Jen Consaul, who set the program's single-season records for appearances, innings pitched and complete-games.
As an assistant coach, Griffin handled day-to-day operations of the program, which included recruiting, scheduling, practice planning and on-field instruction. In her role as a recruiter for the team, she played a role in the recruitment of three All-MAAC honorees in the last two years. Griffins also helped plan and supervise various camps and clinics at Canisius and she's active in the community, as she serves as a volunteer coach with the Canisius Special Olympics basketball and softball teams. Her basketball teams won back-to-back gold medals at the New York State Special Olympics games and in the summer of 2014, her hoops squad earned a silver medal at the USA Special Olympics Games, held in Princeton, N.J.
Griffin is no stranger to Western New York softball, as she played her scholastic ball at nearby Cleveland Hill High School. At Mercyhurst, she played in 130 career games and she was a three-time GLIAC All-Academic Team honoree. As a senior in 2007, Griffin hit .264 with three home runs and 18 RBI for the Lakers, while ranking third on the team in on-base percentage (.346), fourth in runs batted in and fifth in total bases (46). She also won six games in the circle for Mercyhurst in her senior season to go with a save and a 3.52 ERA. She was named to the All-GLIAC Honorable Mention list after her junior campaign when she hit .322 with six doubles and 22 RBI.
Griffin earned her undergraduate degree in sports medicine from Mercyhurst in 2007, and she earned her master's degree in school counseling from Canisius in 2011.