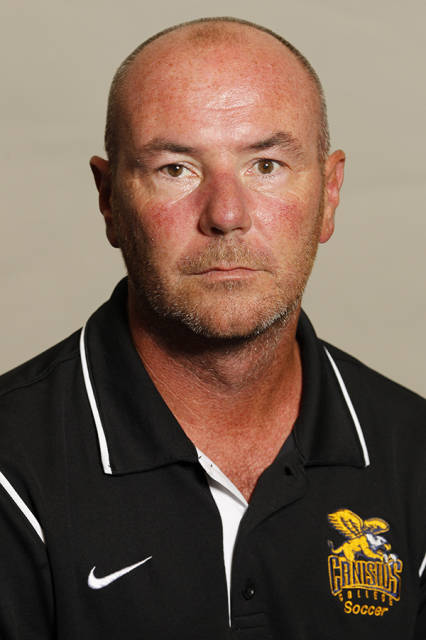 Head Coach
Dermot McGrane
A two-time MAAC Coach of the Year, Dermot McGrane is in his sixth season leading the Golden Griffin men's soccer program. McGrane, who was named the school's 14th head coach on Jan. 21, 2011, spent the prior nine years turning Niagara University into one of the top programs in the MAAC.
It took less than five years for McGrane to duplicate the process with the Griffs and turn Canisius into a MAAC contender. In just his second season on campus in 2012, the program enjoyed one of the most successful campaigns in the school's history. The team received votes in the national poll for the first time in its history and reached as high as second in the NSCAA North Atlantic poll.
Canisius has continued to raise the bar since its breakthrough 2012 campaign. In 2014, the Griffs set or matched 11 school records, highlighted by a program-best nine wins. Canisius also capped the successful campaign by winning the inaugural Big 4 Shield – an annual competition among the four local soccer schools (Canisius, Buffalo, Niagara and St. Bonaventure). Overall, the first two classes recruited by McGrane graduated as the most successful classes in program history, with the 2015 seniors winning a school-record 32 games.
On an individual level, McGrane has helped a number of student-athletes at Canisius elevate their game. In 2012, the Griffs had two players garner regional All-America accolades in the same season for the first time in school history when Gavin Falconer was named to the NSCAA All-North Atlantic First Team and Asani Samuels collected third-team accolades. Samuels, who repeated as an all-region honoree in 2013 and 2014 to become the first three-time recipient in the program's history, also became the first Griff under McGrane to ink a professional contract when he signed with the Rochester Rhinos. The Canisius standout wasted no time in making an impact at the next level as Samuels scored the tying goal in stoppage time and the game winner in overtime in the 2015 USL Championship to earn MVP honors.
The process of turning Canisius into a premier program is a familiar one for McGrane. The winningest head coach in Niagara history, McGrane inherited a program that won only 27 games in the 11 seasons prior to his arrival and then took the team to six MAAC Championship Tournament appearances, including the program's first title game in 2009.
Overall, McGrane led Niagara to 61 wins in his nine seasons, including 39 conference victories and seven seasons of at least a .500 winning percentage versus MAAC foes. His success with the Purple Eagles did not go unnoticed by his peers, earning MAAC Coach of the Year accolades in back-to-back seasons following the 2005 and 2006 campaigns.