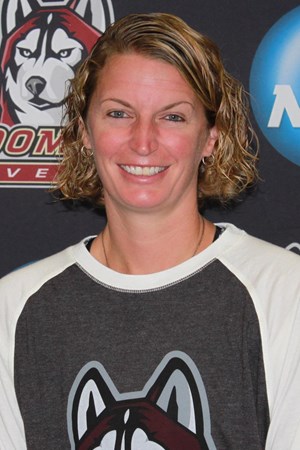 Head Coach
Nicole Hartranft
Nikki Hartranft will begin her 11th season as the field hockey head coach in 2020. In her first ten seasons with the Huskies, Hartranft has guided the program to a 122-70 overall record and a 63-39 mark against Pennsylvania State Athletic Conference (PSAC) opponents. In eight of those years, she has led the team to a postseason berth and to at least ten victories.
In 2019, sophomore Foto Tsioles enjoyed a breakout campaign by scoring a team-high eight goals and 17 points to earn All-PSAC Third Team accolades. The young Huskies won seven games and made a late-season push for the final postseason spot in the conference tournament before being eliminated on the final day of the regular season. Bloomsburg went 3-4 in overtime games with one of its victories coming in double overtime at then-#3 Millersville to keep the Huskies' late-season playoff hopes alive.
Bloomsburg won 11 games in 2018 and advanced to the PSAC quarterfinals for the fourth consecutive time - and eighth in nine seasons - before bowing at then-#4 Shippensburg in overtime to end its season. The Huskies had five players earn All-Conference honors - Tali Wehner, Erica Krebs, Jackie Shragher, Tesa Hoffman, and Dana Sheply - with Wehner going on to earn Second Team All-American accolades from both Synpase Sports and Longstreth/National Field Hockey Coaches Association (NFHCA). The program also had 17 members on the NFHCA National Academic Squad with Hoffman, Shragher, Cheyenne Ott, Sydney Rimmer, and Annie Klinger collecting Scholar of Distinction honors.
Before coming to Bloomsburg, Hartranft was the head coach at Alvernia where she led the Crusaders to a two-year record of 22-18 and a berth in the 2009 ECAC playoffs, advancing to the semifinal round. Academically, 10 players from her 2009 squad earned recognition by being named to the SGI/NFHCA Division III National Academic Squad for earning GPAs of 3.3 or higher through the first semester of the 2009-10 academic year.
Hartranft, a 2004 graduate of Bloomsburg, was a standout player for the Huskies helping the team to two NCAA championships and two PSAC titles. The Huskies compiled a record of 73-8 during her time as a player, including a perfect 21-0 record in 2002. She was a three-time All-American and three-time All-PSAC selection. Hartranft is currently tied for 10th all-time in Bloomsburg history with 45 career goals, 11th in assists with 24, and ninth in career points with 114. She was both a Bloomsburg and PSAC Scholar-Athlete.
Hartranft has one daughter, Kadyn.