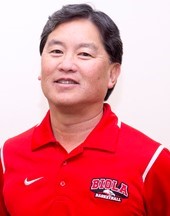 Alan Nakamura enters his third season as Biola's Head Women's Basketball Coach in 2017-18.
During Nakamura's second year and the Eagles last as an NAIA institution, Biola surprised many teams in the GSAC with a 2nd-place finish and shot up to No. 14 in the Feb. 28 NAIA Coaches' Top-25 Poll. The Eagles went 23-6 during the regular season and set the program record for win percentage at home with a 14-1 mark at Chase Gym.
That improvement earned Nakamura a conference Coach of the Year award from the Golden State Athletic Conference on Feb. 28. Due in part to Nakamura's adjustment in game tempo, Joclyn Kirton, Annie Park and DeMoria White all averaged at least 14 points per game and earned all-conference recognition. On March 24, Kirton, Park and White were also named NAIA All-Americans. The Eagles earned a berth in the NAIA National Tournament for the first time since 2012, exiting after a first-round loss to Central Methodist (Mo.).
The 2015-2016 season had its good moments but turned out to be the building year that led to the next season's success. Biola finished 7-8 in conference during Nakamura's first season and an even 10-10 in Chase Gym.
Nakamura came to Biola after spending 14 seasons by the beach as the assistant coach of Point Loma's women's basketball team. In 2014-15, he helped guide the Sea Lions to a third-place finish in the PacWest Conference and a playoff victory in the NCAA Regional First Round. Point Loma defeated the NCAA Division II No. 1 team, Alaska-Anchorage on their home court in that playoff first round game.
Nakamura is very familiar with the Eagles' PacWest opponents. He was a part of the Point Loma coaching staff when it was a member of the GSAC along with Azusa Pacific, California Baptist, Concordia University Irvine, Fresno Pacific and Biola. During Nakamura's time with the Sea Lions, the team won at least 20 games and advanced to the NAIA National Tournament for seven of its final eight years in the NAIA.
His responsibilities in San Diego included developing the perimeter players, scouting, running the defense and handling recruiting. His Sea Lions gave up just 62.3 points-per-game to their opponents in 2014-15, ranking them No. 1 in the PacWest Conference, which was a NCAA powerhouse, sending three teams to the national tournament.
Nakamura brings a ton of coaching experience with him to Biola, as prior to his 14 years at Point Loma he was a high school teacher and coach. He has experience coaching baseball, football, surfing and girl's and boy's basketball. He's also got junior college and club coaching experience in football, basketball and baseball.
He graduated from San Diego State with a B.S. in Psychology and went on to get a M.S. in Education/Physical Education from Azusa Pacific.
In his spare time, Nakamura is an avid surfer. He's a two-time Southern California Master's Champion, won a national championship as a member of San Diego State's surfing team and spent some time of the Professional Surfing Association of America Tour.
Nakamura currently lives in the Claremont area with his wife, Franci, and their children Kealoha, Kalani, Alec and Selah-Joy.