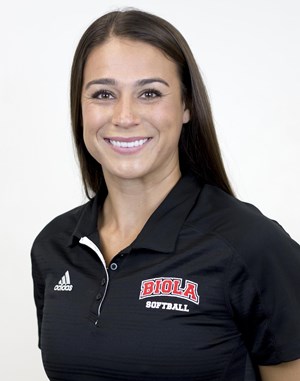 Nikki Udria was announced as the ninth head coach of Biola Softball in the summer of 2018. Udria took over the program after one season as an assistant coach during Biola's first season as a member of the PacWest Conference and NCAA Division II. It is her first head coach position at any level.
"Coach Udria is a an excellent fit to lead the next era of the Biola softball program," said Director of Athletics Dr. Bethany Miller. "She is committed to developing the faith of our student-athletes, has personal background at the highest level of competition and has proven her strengths as a Biola assistant coach."
In 2018, while Udria was serving as assistant coach, Biola improved its overall record from 21-22-2 to 33-19 and finished near the top half of the PacWest standings with a .500 record in conference play. Specifically, Udria was responsible for working on defense, hitting and mental preparation with Biola's student-athletes. The Eagles' fielding percentage increased from .945 the year before to .962 in 2018. Biola also improved immensely offensively, scoring 60 more runs and recording 36 more extra-base hits than in 2017.
Udria graduated from Oregon in 2017 with a degree in communication disorders and sciences and a minor in special education. She played four seasons of softball for the Ducks and played in the NCAA postseason all four years, including three NCAA Women's College World Series appearances and three Pac-12 Championships.
Her career accolades are remarkable as she earned major awards each of her four seasons at Oregon, including: Pac-12 All-Freshman team, four-time all-region, three-time All-Pac-12 and two-time All-American. She was named NFCA All-American first team after hitting .394 during her senior season and was selected by the Houston Scrap Yard Dawgs in the NPF Draft.
Udria hit .375 for her career, spread across 240 appearances for the Ducks. Seventy-four of her 247 career hits went for extra-bases, including 35 homeruns. She played shortstop for Oregon and ended her career with a .938 fielding percentage, making just 46 errors in 741 total fielding chances.
Prior to her time at Oregon, Udria played high school ball at nearby Mater Dei High School and was a part of the Corona Angels club softball organization. Biola Softball has a recent history of players coming into the program from the Corona Angels and will be something that Udria would be able to further. During her high school career, Udria was a two-time league MVP and helped her club team to three top-10 finishes at nationals, including a second-place finish in 2010.
"I chose this position at Biola because it allowed for me to pursue both of my passions, faith and softball," said Udria. "I am able to grow the game of softball, bring improvements to the program as well as continue to guide my players closer and closer to Jesus throughout their journey at Biola."
In addition to her coaching duties, Udria is still actively involved with USA Softball. She was one of 35 athletes selected for the USA Women's National team in 2018 and competed with them in Japan and in the United States this summer. She will continue her personal athletic journey with hopes of a spot on the team for the Olympic Games in Tokyo in 2020.
"My vision is to take the Biola Softball program to the highest level it has ever been," said Udria. "I see our program winning league titles, competing for national championships and being great representatives of everything Biola stands for as a Christian University. With great sportsmanship and passion for the game, my hope is that Biola softball will disciple other teams and lift the name of Jesus on high in all that we do, both on an off the field."
Outside of softball, Udria enjoys spending time with her family, going to the beach and binge watching Family Feud.