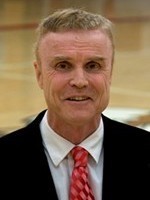 Head Coach
Dave Holmquist
Dr. Dave Holmquist enters his 38th season as the Head Coach at Biola University as one of the winningest coaches all-time in college basketball. He earned his 900th career coaching victory with a 79-60 victory over Bethesda on Nov. 24, 2015. That win made him the eighth coach in the history of all levels of college basketball to reach the 900 win mark. Entering the 2017-18 season Coach Holmquist has an all-time record of 947-364 (.722 win percentage) in 40 seasons of coaching including an impressive 911-321 record (.739 win percentage) in his 37 years at Biola.
Holmquist, a 2002 inductee into the NAIA Hall of Fame, is 8th on the all-time wins list for all four-year college coaches and is one of fewer than 50 coaches to have ever coached 1,000 games. Through 40 years of coaching he's led his teams in over 1,200 games.
The Eagles left an impact during their final season in the NAIA in 2016-17. Winning its final eight home games during the regular season propelled Biola to GSAC Tournament and NAIA Nationals appearnces. Seniors Dakari Archer and Caelan Tiongson garnered All-GSAC honors and averaged 15.1 and 13.2 points, respectively. The Eagles finished out their NAIA tenure with a nail-biting 76-78 loss to Langston (Okla.) in the opening round of the NAIA Nationals.
The 2015-16 season was easily one of the most enjoyable of the long, accomplished and outstanding career of coach Holmquist. His team finished ranked inside of the top-10 in the NAIA Division I and ended the year with a 30-4 overall record. The team swept the Golden State Athletic Conference championships by winning the regular season with a 14-2 record and earning the tournament championship over Hope International in a game regionally televised on FOX Sports Prime Ticket.
Holmquist was honored by the National Association of Basketball Coaches with their NAIA Division I Men's Basketball Coach of the Year honor. He also took home GSAC Coach of the Year honors. It was his second national coach of the year honor and eighth regional coach of the year honor.
During the 2001-02 season, Holmquist became the youngest coach to reach the 600-win plateau and was among the youngest when he went over 700 wins in 2005-06. He won his 800th career game on Dec. 29 in victory over University of the Fraser Valley, needing just 1,095 games to reach that plateau.
Holmquist is the longest-tenured coach in the Golden State Athletic Conference, known since its inception as a "coaches conference." Since Biola joined the GSAC in 1994-95, Holmquist has guided the Eagles to a 224-144 record (.608 win percentage). Over that stretch, his teams have finished in the top four in 12 of 21 seasons including a conference championship in 2001-02.
Holmquist inherited a program that had not won more than 25 games in a season nor advanced to a national tournament in 18 years prior to his arrival. However, since becoming the head coach at Biola, the Eagles have averaged more than 24 wins a year and reached the NAIA Tournament 20 times, tied for sixth-most appearances all-time among active and former NAIA teams.
Holmquist has earned GSAC Coach of the Year honors four times times, once in 1996-97, another in 2001-02, 2003-04 and 2015-16. He guided the Eagles to their first GSAC title in 2001-02 in what proved to be one of the most successful seasons in recent memory. Biola wore the conference crown with a 17-3 record and wrapped up the year at 29-5, reaching the second round of the NAIA tournament. The title in 2015-16 was the second GSAC title in program history.
Holmquist's most successful season came in 1981-82 when Biola finished with a 39-1 overall record and advanced to the NAIA championship game. He was named the NAIA co-Head Coach of the Year.
During his time with the Eagles, Holmquist has coached players to 32 NAIA All-American honors and 40 All-GSAC players including three GSAC Players of the Year: Matt Garrison (1996-97), Nate Strong (2001-02) and Dakari Archer (2015-16).
In addition, the Eagles have reached the postseason in each of his seasons of coaching, advancing to the NAIA Championship game in 1981-82. He recently guided Biola to the tournament four straight seasons (2008-12), including NAIA Quarterfinal berths in three of those, making for eight in Holmquist's tenure.
Holmquist played two seasons at Biola (1972-74), being named team captain his senior season after transferring from nearby Cypress College.
After his graduation from Biola in 1974, Holmquist became head coach at Fresno Pacific College (now University) at just 24 years of age. He coached three seasons at Fresno Pacific, amassing a record of 36-43 before returning to his alma mater at the start of the 1978-79 season to become Co-Head Coach with Howard Lyon.