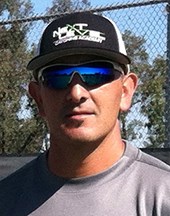 Interim Head Coach
Justin Duarte
In January 2019, Biola University announced Justin Duarte as the 10th head coach in the nearly 60-year history of the Biola Baseball program.
After an exhaustive search and interview process, Duarte was tabbed as the program's interim head coach for the 2019 season.
"We are thrilled to welcome coach Duarte on board," said Associate Athletic Director Eddie Shepard. "We believe he is the perfect fit to lead this team to a successful season and provide stability and care for every member of the Biola Baseball program. It's a tough time to take over a team, but we are all confident that he's got the experience and temperament to make this a memorable spring for a great group of players."
Duarte played against Biola as a member of the Azusa Pacific baseball team from 1996-99, helping the Cougars to four 30-win seasons, one Golden State Athletic Conference championship and three runner-up GSAC finishes. Two of those APU runner-up finishes came in championship seasons for Biola Baseball.
His familiarity with Biola and its baseball program does not end there, though. Duarte spent summer 2014 and summer 2015 as the head coach for the Southern California Catch, the collegiate summer baseball arm of Southern California Fellowship of Christian Athletes. The Catch played their home contests at Eagles Diamond and Duarte coached several Biola players those summers, while also coaching alongside former Biola coaches.
"I feel that with the support of great faculty and administration at Biola, we can impact lives for Christ and have storied success in the PacWest, as well as in our community," said Duarte.
Duarte was a dual-sport athlete at Azusa Pacific, also playing football for the Cougars in 1997-98. In 1998 he helped the team to a 12-2 record and NAIA National Championship.
After that, he went on to try his hand in professional baseball after being selected in the 22nd round of the 1999 MLB draft by the Philadelphia Phillies. Duarte played up to AA ball from 1999-2002 before calling it a career.
For the past seven years, he's owned his own business, operating the Next Level Catching Academy. He's paired his instruction business with full-time work in the Covina-Valley Unified School District since 2002 and also held down several assistant coach positions, including most recently two years at Mt. San Antonio College.
From 2005-07 he served as an assistant at his alma mater, helping lead the Cougars to a 2007 conference and regional title and NAIA World Series Appearance. During those years he had a chance to work with MLB All-Star catcher, Stephen Vogt.