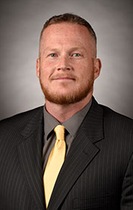 Head Coach
Jonathon Barbaree
Jonathon Barbaree enters his fourth season as the women's basketball head coach, coming off of the most successful season in recent history for the Trojans after being named the WBCA Division II Regional Coach of the Year and the SAC Coach of the Year. In the 2018-19 season he led the Trojans to 28 consecutive wins and a 30-3 overall record that concluded with the SAC Regular Season and Tournament Titles along with the #1 Seed in the NCAA Division II Southeast Regional Tournament as host in Abney Gymnasium in Anderson, SC.
The Trojans finished the 2017-18 season with a 20-11 overall record while finishing 3rd in SAC regular season play. Barbaree led Anderson to its 12th overall appearance in the NCAA Tournament.
Barbaree began coaching in 1995 as a student assistant at Georgia College. During his stint in Milledgeville, where he spent the first nine years of his coaching career, Barbaree helped the Bobcats compile a 178-87 overall record including three Peach Belt conference championships and four National Tournament berths. He was a student assistant for three seasons before coaching two seasons as a graduate assistant. He was promoted to full-time assistant prior to the 2000-2001 season and spent four seasons in that position.
Working under head coach John Carrick, he helped the Bobcats to three winning seasons and two Peach Belt Conference championships in 2002 and 2004. The Bobcats were the lowest-seeded team to come through the Peach Belt tournament and claim the conference crown in 2002. The 2004 team finished 28-6 and reached the Sweet 16 of the NCAA D-II tournament.
Barbaree left Georgia College after the 2004 campaign to take an assistant position at Furman University, where he worked for four seasons through 2008.
He then spent five years as an assistant coach at Georgia State in Atlanta. While working with the post players for the Lady Panthers, Barbaree was instrumental in the development of center Cody Paulk, who was named to the Colonial Athletic Association's All-Defensive Team as a senior while setting a school-record with 77 blocks for the season. She finished her career with a school-record 210 blocks which ranks fifth all-time in the CAA.
Barbaree brought a wealth of collegiate coaching experience to the Anderson University program, having spent 20 years in the college ranks, 18 years as an assistant coach with three different programs and the past two seasons as a head coach for the College of Coastal Georgia posting a 24-35 overall record.
Barbaree earned his bachelor's degree in business management from Georgia College in 1998 before also getting his master's in health and physical education from the school in 2000.
A native of Atlanta, Barbaree is a graduate of Rockdale County High in Conyers, where he lettered in both basketball and baseball with the Bulldogs.