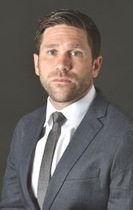 Michael Zion was announced as head coach on April 25, 2014 after being an assistant with the program since 2010. Zion is entering his fourth year as head coach.
In his first season as the head coach of the Black and Gold, Zion led Anderson to an eight-win season, headlined by a win over nationally-ranked Wingate. The Trojans claimed six South Atlantic Conference victories, including three on the road. Zion coached standout Lars Zimmermann in his final season as a collegiate player, as Zimmermann earned Capital One Academic All-America First Team honors, as well as NSCAA All-Southeast Region Third Team honors. Zion also placed four Trojans on postseason All-SAC Honors, headlined by Magnus Larsen's SAC Freshman of the Year award.
During his tenure as Anderson's assistant coach, Zion has won 50 matches, while appearing in the NCAA Tournament three of the four seasons. Zion has coached a two-time All-American, an all-region Player of the Year and nine all-region players.
In his final season as an assistant coach with the program, Zion led the Trojans to a fourth straight South Atlantic Conference Tournament championship, before falling to Queens, 2-0. Despite the setback in the title match, Anderson earned a berth into the NCAA Tournament, falling in the first round to eventual national runner-up, Carson-Newman. AU wrapped up the 2013 season with a 12-7-3 record and led Lars Zimmerman and Andre Carle to NSCAA all-district honors.
Despite a rough start to the 2012 season, Zion helped lead a late charge, as Anderson captured its third straight SAC Tournament championship, despite entering the conference tournament with a 4-10-3 overall record. The Trojans knocked off Lincoln Memorial, 1-0, to earned their third straight conference tournament championship. Zion coached Shu Ogawa and goalkeeper Lukas Hesse to NSCAA All-Southeast Region honors, while Zimmerman was picked to the Daktronics Second-Team All-Region.
In 2011, Zion assisted an AU team that finished the year 17-4 and closed its SAC schedule with a perfect 9-0 conference record. During the year, Anderson went on an 11-match winning streak, outscoring its opponents 29-5 during the span. In the postseason, Anderson claimed its second straight SAC Tournament championship, defeating Lenoir-Rhyne in overtime, 1-0, to claim the title. Zion coached four Trojans to the Daktronics all-region team, while Lasse Sohweide earned All-America honors for the second straight season.
In his first season on the Trojan coaching staff, Zion helped lead the Black and Gold to a Sweet 16 appearance in the NCAA Tournament, after winning their first SAC Tournament championship. The Trojans closed the 2010 season with a 15-6-2 record and a 6-3 mark in their first season as members of the SAC. Anderson also finished 17th in the NSCAA rankings, while Sohweide was named to the Daktronics NCAA Division II Men's Soccer All-America First Team.
Zion, a four-year letterwinner and two-time team captain from 2003-06, scored nearly two dozen goals, recorded 21 assists and notched four game-winning scores during his tenure at AU. The native of Spartanburg, S.C., helped transform a Trojan squad that claimed just three wins in his rookie season into a perennial contender for conference titles. Anderson won a combined 27 matches over his final three campaigns, and battled top-seeded Queens to a draw in the opening round of the 2006 CVAC Tournament Championship.
Following his collegiate career, Zion played for the Palm Beach Pumas in the USL Premier Development League (PDL), Performance FC in the Premier Arena Soccer League and Performance FC Phoenix in Greenville, S.C., in 2008. He also spent a season with the London, England Kickers in the FA Futsal League.
Zion received his bachelor' degree in kinesiology from Anderson following his collegiate career.