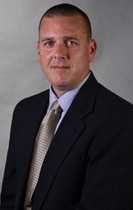 Jeff Brookman returned to the Electric City as the Trojans' head men's basketball coach in August, 2015.
"We are extremely excited to have Jeff Brookman as our next head coach," said Director of Athletics, Bill D'Andrea, at the time. "He has demonstrated all the qualities you look for when hiring a coach to lead your basketball program."
The Charlotte, N.C. native became the fourth head coach in program history since the Trojans became a four-year institution in 1995.
"I want to thank President Whitaker and Bill D'Andrea for this wonderful opportunity," said Brookman. "I am very excited about returning to Anderson University where I have a lot of great memories as an assistant coach. I have followed Coach Taylor and his teams closely over the past five seasons and know I have big shoes to fill. I look forward to the challenge ahead and can't wait to hit the ground running. My family and I are very lucky to be a part of a University that is so special."
After moving on to Spartanburg Methodist from AU in 2010, Brookman averaged 24 wins per season over the last five years at the helm of the Pioneers' program, compiling a 120-42 record in Spartanburg. For his efforts Brookman earned back-to-back Region X Coach of the Year accolades in 2012 and 2013. He guided SMC to a 19-11 overall record in 2014-15, including a 5-5 mark in NJCAA Region 10. In 2013-14, the Pioneers went 18-12 and earned a berth in the Region X Tournament semifinals where they were upended by host Brunswick.
In just his fourth year at SMC, Brookman reached the 100-win milestone with a 74-61 win over Clinton Junior College on February 22, 2014.
In just his second year as head coach, Brookman led the Pioneers to one of the best seasons in school history after finishing 29-7 overall and 12-2 in Region X.
During the 2011-2012 season, the Pioneers won the Region X Regular Season Championship, a Region X Tournament Championship and made an appearance in the 16-Team NJCAA National Tournament for the first time since 1999. The Pioneers made it as far as the Elite Eight in the national tournament by edging perennial JUCO power, Three Rivers, 61-58.
"It was an extremely competitive applicant pool," added D'Andrea. "I received recommendations from several NCAA Division I coaches and I would be remiss not to mention that Jason Taylor and his staff made this position attractive to the next head coach."
Brookman originally joined the Anderson basketball staff in July, 2006 following coaching stints with the Sarnen Basketball Club (Switzerland), Belmont Abbey, Radford and the ABA's Charlotte Krunk.
After finishing his collegiate career at Belmont Abbey in 1998, Brookman played professionally in Switzerland from 1998-2000, averaging more than 24 points per game while playing for both Ruessbuhl and Viganello in 2000. While with Belmont Abbey, he was named the Carolinas-Virginia Athletics Conference Freshman of the Year following the 1994-1995 season, earned honorable mention All-Conference and was a two-time team MVP.
Brookman scored 1,443 points in his career with the Crusaders, which ranks 14th all-time at Belmont Abbey. He was also a member of the 1997 Belmont Abbey soccer team that won the CVAC regular season championship, leading the team in scoring and was also named to the All-Conference and All-Tournament teams.
He returned to Belmont Abbey for the 2002 campaign as an assistant coach for a team that ended the year 24-6, won both the CVAC regular-season title and CVAC tournament title and reached the East Regional semifinals.
From 2002-05, Brookman served on the staff at Radford University as an assistant coach. His duties there included recruiting, player development, scouting and film exchange. During the 2002-03 season, the Highlanders made it to the Big South Tournament Championship game.
He returned to the Charlotte area in '05 as an assistant coach for the ABA's Charlotte Krunk. During his time with the Krunk, Brookman had the opportunity to work with a number of great players who are currently playing professionally all over the globe. He left the Krunk in January, 2006 to join the staff of the Charlotte Royals, a 17-and-under AAU team that sent eight players to Division I schools.
Brookman was also instrumental in AU's then-unparalleled success in 2009-10, as the Trojans got off to their best start in school history, culminating in their first-ever bid to the NCAA Tournament.
Brookman was inducted into the Charlotte Catholic High School Sports Hall of Fame in February, 2007. He graduated cum laude with a B.S. degree from Belmont Abbey College in 1997. He finished his Masters degree in sports management from the United States Sports Academy in December 2008. He resides in Anderson with his wife Rachel, who is a teacher at Midway Elementary School in Anderson, S.C. They are the proud parents of two sons, Parker and Brady.