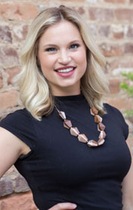 Head Cheerleading Coach
Nikki Arroyo
Nikki Arroyo was named head cheerleading coach for the Trojans in mid-July 2017.
Arroyo was an instructor with The Universal Cheer Association from 2008-13 and after receiving her bachelor's degree in english from Anderson University in 2011, she served as the Spirit Squad Coordinator at the University of Northern Iowa from 2011-13. Following her stint with the Panthers in Cedar Falls, Arroyo earned her master's degree in elementary education from her alma mater and has served as the Competitive Cheer Coach at Powdersville High School since 2015.
While earning her undergraduate degree from AU, the Piedmont, S.C., native was a member of the Trojan cheerleading squad from 2007-10 and served as an assistant coach at Eastside High School in 2010-11. She has choreographed routines and worked camps for University of the Ozarks in Arkansas, Missouri Valley College, UNI, Liberty High School and Liberty Middle School, along with Powdersville High School.
"I am thrilled to have the opportunity to return home," said Arroyo. "As an AU alumni, I cannot wait to be a part of the program again. This is truly a door opened by God, and I am excited to work with the athletes at AU and share my passion for cheerleading."
Arroyo and her husband, Nathan, have four-year old twin daughters, McKenna and Raelynn and are members of Revive Church in Piedmont. She currently teaches fifth grade at Midway Elementary in Anderson.