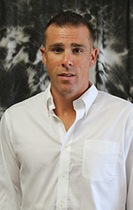 A new chapter in Anderson University baseball began on July 16, 2019, when PJ Zocchi was named the Trojans' new head coach.
Zocchi, a former Clemson standout, served as the Trojans' pitching coach during the 2019 campaign after serving in the same capacity for four seasons at fellow South Atlantic Conference-member Newberry.
A native of the Bronx, N.Y., Zocchi became just the third head coach in program history.
"We are very excited to introduce Coach Zocchi as the next head baseball coach for the Trojans," said Vice President for Athletics, Dr. Bert Epting. "After conducting a national search, PJ's vision, passion and baseball knowledge is exactly what Anderson University needs for the future growth of the program. I am looking forward to great success for AU baseball under his leadership."
The Trojan pitching staff was third in the SAC during the 2019 season after issuing just 174 walks and under Zocchi's tutelage, junior right-hander Christian Carpenter earned Honorable Mention All-SAC accolades after leading the league and ranking fourth in the NCAA with a school-record 13 saves during the regular season. The closer was seventh in the league with 24 appearances and boasted a stellar 2.53 ERA, while holding opponents to a .239 batting average.
During his stint with the Wolves, Zocchi mentored seven pitchers who earned All-Conference honors, including First-Team All-South Atlantic Conference and All-Eastern College Athletic Conference honoree Zack Kelly, along with honorable mention All-SAC recipient Evan Estridge in 2017 and freshman Ryan Harbin two seasons ago. Reliever Robert Westenrieder also earned a spot on the SAC Championship all-tournament team in 2017.
Newberry pitchers set school records with five shutouts and 133 walks allowed three seasons ago, and the Wolves posted the fifth-best ERA (4.80) and seventh-best in school history with 7.44 strikeouts per nine innings in 2017 while contributing to school records in stolen bases allowed (22) and opponents' stolen base percentage (.537).
Off the field, Zocchi's pitchers have garnered academic all-district honors twice, while catcher Jeff Sneed was named SAC Scholar-Athlete of the Year in 2016 and senior designated hitter Ben Herring captured the honor in 2018.
Zocchi (pronounced zaw-chee) has also helped develop 13 NCAA Division I and Division II student-athletes as an instructor with Blue Chip Baseball in the Electric City. He played for Iona Prep and earned all-region and all-state accolades, while claiming the NYC Con Edison award in 2003. He was listed by Area Code Baseball as one of the top 50 prospects in the nation in 2003. Zocchi went on to play at Clemson and was a member of the Atlantic Coast Conference Academic Honor Roll from 2004-06 and was named a team captain in 2006-07. With the Tigers, Zocchi notched an 11-2 career record with a 3.97 ERA and was selected by the Cleveland Indians in the 36th round of the 2007 MLB Draft.
In 2009, Zocchi played for the Oakland County Cruisers in the Frontier League, where he was named a midseason and postseason All-Star in 2010. In 2010, he broke the Frontier League's single season saves record and was named the league's Pitcher of the Year.
In 2011-13, Zocchi split time in the Los Angeles Dodgers organization and with the Lincoln Saltdogs. With Lincoln, he won Pitcher of the Year honors in 2011 and 2013. During his time with the Saltdogs, he set a number of team records for saves in 2011 and then again in 2012, while also setting the team record for ERA in 2013 with a 6-1 record and 1.61 ERA.
"I want to thank Dr. Whitaker, Dr. Epting and Wayne Landrith for this great opportunity to serve and lead the baseball program at Anderson University," said Zocchi. "My family and I are extremely honored to be a part of a university that continually strives for excellence. I want this program to be atop the South Atlantic Conference by creating a culture that strives for excellence daily. I truly believe AU baseball is a hidden gem in South Carolina and I'm ready for the opportunity."
What they say about PJ Zocchi …
"It's exciting to have another one of my own to be named a collegiate head baseball coach. PJ was an extremely hard worker as a Clemson Tiger, who pitched in the College World Series in Oklahoma. He is a young coach who knows the game and will communicate well with the players. I am proud PJ has this opportunity."
Former Clemson University Head Baseball Coach Jack Leggett
"PJ is the perfect fit for Anderson University and will do great things for the Trojans. PJ is a tireless worker and will be very successful leading the Anderson baseball program. I wish him the best of luck in making the Trojans a perennial contender in the South Atlantic Conference."
University of Florida Head Baseball Coach Kevin O'Sullivan