Developmental Become a Cavalier Overnight Camp

July 28, 2019 - July 30, 2019
This 3 day overnight camp maximizes the player's time with the coaching staff, current and former UVA players. During the camp, players will receive 3 days of elite instruction provided by our coaching staff, current and former players and other college coaches. Players will have access to the lockers in our professional players clubhouse, receive two official UVA dri-fits, a game hat and a jersey. Games will be played during the camp to emphasize the techniques and instruction taught throughout the day. This is a great camp for players who want to advance their game with advanced teaching techniques in a small camp setting.
Daily Schedule:
July 28th - Check in 2:00-4:00 pm
Instruction - 4:00-8:00 pm
July 29th - Instruction 8:00am-8:00pm
July 30th - Instruction 8:00am-12:00pm
Each camper must bring his own baseball equipment. Players should bring a glove, bat, cleats/spikes, hat and any other equipment they feel necessary to compete. Catchers must bring their own gear. Helmets will be provided if you do not have your own. Every camper in attendance will be given two numbered UVA Baseball dri-fits to be worn during the camp along with a game jersey. However, all campers must bring their won baseball pants (players are encouraged to bring multiple pairs). Laundry services will be provided for the jersey's and camp shirts on Sunday and Monday. The University of Virginia Baseball program and Atlantic Coast Camps will not be responsible for lost or stolen items.
Please check your email regularly as this is our primary way of communication. Any additional information that we need to convey as the camp draws closer will be passed on to you via the email address that you supplied during the registration process.
Accommodations:
All campers will reside in the residence hall normally occupied by undergraduate and graduate students of the University. These dorms are air conditioned.
Dorm Rooms:
The rooms are suites of 4 to 6 players per suite. Please email Coach Matt Kirby at mkirby@virginia.edu if you would like to request a roommate.
Hotel for Parents:
The Hampton Inn is the official sponsor of Atlantic Coast Camps. Located less than 2 miles from Davenport Field, the Hampton Inn offers competitive rates and beautiful accommodations. Make your reservation today by calling 434-978-7888 and use the code: DBAC for the hotel camp rate.
Refund Policy:
After receipt of the application, refunds will be honored with a credit toward a future camp due to accident or injury. The credit will be full with the exception of $100, which is needed to cover expenses prepaid by Atlantic Coast Camps. Scheduling conflicts are not cause for credit toward future camps. Refunds may be requested and will be rewarded on a case by case basis.
Contact Information:
If you have questions regarding the camp, please contact Assistant Coach Matt Kirby at mkirby@virginia.edu or Joe Bialkoski at 434-982-5129 or by email at jwb7pa@virginia.edu
***In accordance with the rules of the NCAA, camp is open to any and all entrants, limited only by number, age, grade level, and/or gender.
***In accordance with the rules of the NCAA, the NCAA prohibits free/reduced admission for prospect-aged individuals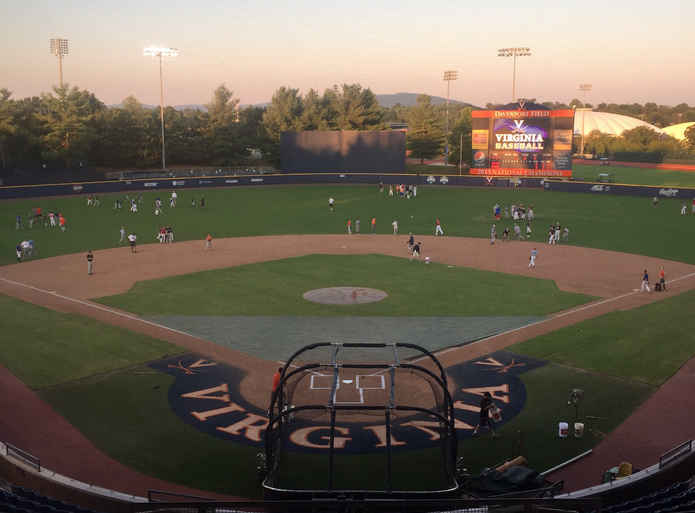 The camp will take place on the grounds of the University of Virginia, the camp will be using the newly renovated Davenport Field.
Developmental Become a Cavalier Overnight Camp
Gender: Male | Ages: 9 - 14
July 28, 2019 - July 30, 2019 | Charlottesville, Virginia
Sun, July 28, 2019 - Tue, July 30, 2019
434 Lannigan Lane
Charlottesville
,
Virginia
22903